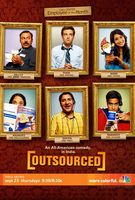 TV Info
---
Episode Premiere
November 18, 2010

Distributor
NBC

Genre
Comedy

Show Period
2010 - 2011

Production Company
Universal Media Studios


Cast and Crew
---
Director
Reginald Hudlin
Screenwriter
Laura Gutin
Main Cast
Synopsis
---
Thanksgiving is a new concept for the call center team, and it's Todd's job to help them understand it. Dressed in a pilgrim's hat, Gupta gets it, proclaiming himself an Indian and a pilgrim. But others are less clear. Rajiv gives his colonial twist on history as Todd tries to explain how the pilgrims and Indians shared their first celebratory meal together. Showcasing his habitual insensitivity, Todd parenthetically explains that in America, the natives now prefer to be called Native Americans. Why? Todd responds, "They find the term 'Indian' derogatory."
Todd explains the potential of Black Friday. The day after Thanksgiving can be huge for a retailer like Mid America Novelties. He tries to rally the team, but Rajiv thinks he's not pushing hard enough. There's a sales incentive, Rajiv reminds Todd: Rajiv could win a new TV, while Todd could win a trip to Hawaii. Todd scoffs. The sales incentives are usually impossible to hit. But Rajiv insists, telling the workers that if they hit the mark, they will all receive healthcare for themselves and their families for a full year. The team gets to work.
In the canteen, Tonya sneaks up on Todd and slaps him on the behind. They're playful lovers looking forward to tonight's date. But as Charlie enters, Todd's concerned: he hasn't told Charlie about his relationship with Tonya. Charlie is seriously interested in Tonya and Todd can't bring himself to break his friend's heart. Charlie warns them both that there's a monsoon approaching; he's hunkering down in his office.
Charlie engages in a traditional Indian game, Carrom, with Manmeet and Gupta. Helpless against the native players, Charlie becomes frustrated and challenges them to a man's game - laser tag. He chases them all over the building, his hunting skills on full display.
With Tonya looking on wistfully from his bed, Todd videochats with his parents and brother who are at home enjoying Thanksgiving. His brother Brad brags that he's just smashed the sales record at work and is giving his prize - a ski trip to Colorado - to their parents. An obviously envious Todd competes for his parents' attention. He tells them that he too has broken a sales record, and that he's going to give them his prize: a trip for two to Hawaii. His parents are amazed and wander off. Todd's brother continues chatting until an impatient (and naked) Tonya gets up from the bed and flashes Todd's brother via webcam. The conversation's over; time for some serious nookie.
Back at work and knowing he's lied to his parents about the trip to Hawaii, Todd pushes the call center team hard. He needs them at peak performance if he's going to win the trip. He channels his inner taskmaster and tries to keep everyone focused. Just as the team is cranking away, the power in the building goes out. The monsoon has arrived. But Todd refuses to let anyone leave. It's Black Friday, and the power could return at any minute.
Todd dispatches Gupta to get some food for the increasingly cranky call team. Gupta remains a target of Charlie's, but he bravely ventures to the canteen where Charlie waylays him. Meanwhile, Todd's parents videocall him at his desk. Todd introduces his mom to his team. His father comes on next, imploring Todd to come home and get a real job. Todd's embarrassed to have his private life revealed in front of his whole team. His father questions him about the trip to Hawaii and then scoffs at his son again before hanging up. Todd's demoralized and steps outside into the monsoon to collect himself. The team feels sorry for him.
Todd returns inside, where his co-workers console him, offering stories to help cheer him up. The power returns and the team works like crazy, doing their very best to win Todd the trip and return him to the good graces of his family. As the deadline looms, it's clear they're not going to make the sales goal. But in a Spartacus-like show of solidarity, Asha stands up and offers to buy 10 farting Santas. Madhuri offers to buy 100 Federal Bikini Inspector badges. Manmeet makes similar offers, all intended to push the sales number over the top. Todd's touched by the support but explains to the hardworking team that winning the contest is no longer important to him; he realizes that trying to prove himself to his father is a mistake.
Charlie and Gupta reach a truce, sitting down to eat together. Gupta likens their meal to the first Thanksgiving. Charlie mildly agrees, then hints to Gupta that things didn't go so well for the Indians after that first Thanksgiving.
The power fails again, so Todd dismisses the team for the night. Rajiv won't hear of it, starting a lecture about how the power could return. In the dark, he goes to tell Todd that it's fear and respect that gets work accomplished. The power snaps back on, only to reveal that the entire staff - including Todd - has sneaked out.