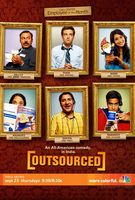 TV Info
---
Episode Premiere
May 12, 2011

Distributor
NBC

Genre
Comedy

Show Period
2010 - 2011

Production Company
Universal Media Studios


Cast and Crew
---
Director
Victor Nelli, Jr.
Screenwriter
Vera Santamaria
Main Cast
Synopsis
---
Rajiv's bachelor party is starting to get interesting: a transvestite stripper is dancing, Charlie's serving breast-shaped Jell-O shots, Rajiv is tied to his chair and Pinky has just arrived with a blow-up doll wearing pasties. But suddenly Vimi and her father burst in, appalled by what they see. Rajiv tries to explain that it's just a silly American custom, but they storm off. Rajiv is a wreck, but his pals refuse to slow down. Manmeet shows up and announces he's had a wild night of sex and is now in love with Ashlynn.
Madhuri and Ajeet walk on the beach at night. Madhuri tells Ajeet that she read his note and reveals she has feelings for him too. Ajeet wants to pursue her, but Madhuri must discuss the matter with her family.
The next morning, the wedding preparations are in full swing. A smitten Manmeet brings Ashlynn to one of the wedding tents where the ladies are being pampered in preparation for the festivities ahead. After he leaves, Ashlynn shares some girl talk with Asha and Madhuri. Ashlynn explains that she's been having fun with Manmeet, but now she's ready to see the countryside - without Manmeet. Apparently, he was only part of her itinerary.
The father of the bride argues with the proprietor of the wedding facility. Given Rajiv's reckless pre-wedding behavior, Vimi's father wants to call the wedding off; he insists that the meal and everything else be cancelled. Todd intervenes. He explains to Vimi's father that the bachelor party was his idea and that the wedding should continue.
A very hungover Gupta stumbles down the beach with Charlie. They encounter a brilliant white horse; it's the steed that Rajiv is to make his wedding entrance upon. They serenade the horse - which promptly bolts off down the beach.
Rajiv finds a contemplative Vimi on the beach. He apologizes profusely and implores her to continue with their wedding plans. She forgives him, explaining that they've both done things they're not proud of. Rajiv's mind begins to race: is his Vimi not quite as pure as he thought? She skirts the question. Distraught, Rajiv seeks out Todd. Should he go through with the ceremony? Todd counsels him that he should.
Manmeet excitedly shows Asha and Madhuri a family heirloom necklace he intends to give to Ashlynn. The girls look at each other with concern. Asha disappears, leaving it to Madhuri to break the news to their coworker that Ashlynn may not be quite as in love with him as Manmeet is with her.
A perturbed Asha complains to Todd about her betrothed: he's not going to show up to the wedding. She wonders if she's being taken for granted even before she's married. Todd explains that any man who would take her for granted is a fool. She smiles.
Gupta and Charlie can't find the bridal horse that they spooked. They pursue the next best option: coaxing an elephant into the job.
Rajiv still has doubts. Todd tries to console him and points out that even though she may not be a virgin, Vimi has many fine qualities. Rajiv comes around. The wedding is on!
Astride the elephant, Rajiv rides down the beach, followed by a dancing procession of friends and family. He and his beloved Vimi complete the various ceremonies; the wedding is traditional, joyous and beautiful. A raucous reception follows. A dejected Manmeet realizes that Ashlynn is not the one, and there's a hint that perhaps Asha may be feeling the same way about her betrothed - much to Todd's delight.