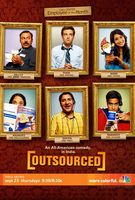 TV Info
---
Episode Premiere
March 17, 2011

Distributor
NBC

Genre
Comedy

Show Period
2010 - 2011

Production Company
Universal Media Studios


Cast and Crew
---
Director
Victor Nelli, Jr.
Screenwriter
Michael Pennie
Main Cast
Synopsis
---
It's morning, and as Todd arrives at work he notices that the streets are desolate. He only finds Charlie, dressed up in military garb, paintball gun in hand. He tells Todd that today is a holiday called Holi. The holiday is celebrated by throwing colored paint, water, and powder so everyone looks the same in a symbolic show of brotherhood. Apparently, on Holi everyone falls victim to a color-attack; Charlie shoots at a passerby with his paintball gun while Todd gets pelted with paint by an old lady. Later, the celebration is in full swing and the streets are crowded with people covered in paint.
The gang is in the office trying to cool off; it seems that the air conditioning is out. Despite the unbearable heat, Rajiv arrives at the office in a great mood; tonight he's proposing to Vimi at a fancy restaurant. Todd tells him that that's too standard and expected; he should do something creative from his heart.
In addition to the broken air conditioning, the computers are down. Todd finally gets through to tech support at lunchtime, only to find that the customer service rep he's talking to is standing next to him in the lunch line. The snotty rep decides he'll make a house call; it'll be easier than holding Todd's hand as he stumbles through the process on the phone. After fixing the computer, the rep remarks that he'll be returning upstairs his air-conditioned office; he tells Todd that air-conditioning is provided for people whose jobs matter. Todd tries to defend his call center, but Gupta's embarrassing antics render his argument useless. Todd and Manmeet later go upstairs to demand air-conditioning and an apology but are only met by a rude manager.
Meanwhile, Rajiv still can't think of an original way to propose to Vimi. He concludes that the best idea would be to cancel his Holi plans that Vimi was so excited about, so she absolutely won't anticipate the proposal. When Rajiv breaks the news to Vimi about Holi, she's furious and says she doesn't want to see him anymore. Rajiv is still excited, not realizing that the damage may be irreparable. Now, he claims, she will definitely be surprised.
Charlie and Todd hatch a plan to get revenge: they send Manmeet into the air ducts to meddle with the air conditioning to switch the airflow to their office. The manager from tech support confronts Todd about the air conditioning war and proposes a deal: Mid-America Novelties will share the air conditioning and in return he will double their Internet speed. Todd accepts the compromise. However, instead of doubling the Internet speed, tech support shuts down their computer network.
Todd is enraged: this is war. He sends Madhuri (who has the uncanny ability to be invisible) into the tech support office as a rat. She learns some valuable information; they have an important client coming tonight whom they need to impress. The Mid-America team stages a Holi attack on their rivals' office, throwing colored paint everywhere. It's a success, and the tech support employees are in complete disarray when their clients arrive.
Later, outside of Vimi's house, Rajiv's plans to surprise her with a romantic song outside of her window are falling apart. He runs into Vimi in his underwear (his clothes were ruined after being attacked with paint by neighborhood children), and explains how his romantic plans turned out to be a complete failure. Vimi is understanding of the situation, and admits that him half-naked and covered in paint will make a great story for their kids. Rajiv proposes, officially, and she accepts.