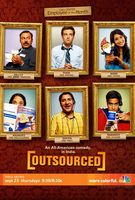 TV Info
---
Episode Premiere
February 03, 2011

Distributor
NBC

Genre
Comedy

Show Period
2010 - 2011

Production Company
Universal Media Studios


Cast and Crew
---
Director
Victor Nelli, Jr.
Screenwriter
Pete Holmes
Main Cast
Synopsis
---
The phones are ringing off the hook as the workers are doing damage control, providing refunds for a mass recall on one of their products. Apparently, there was an issue with a ghost costume that looks frighteningly similar to a Ku Klux Klan uniform. Rajiv tries on the costume, confused as to why Todd is making such a fuss about the pointed white hoods. Gupta has a buyer on the phone who suspiciously wants to order a mass quantity of the costumes, and is wondering if they're flame retardant. They aren't, but seeing an opportunity to make a sale, Todd smirks knowingly and tells Gupta to say they are.
After the ghost costume incident, Todd worries about the morale of his exhausted employees. Charlie suggests switching out his employees to mix it up, and whips out a deck of playing cards with the faces of his workers, looking to make a trade. Tonya mentions that she sometimes takes her team out bowling to show her appreciation. Todd reminisces on his past company retreats and decides that a change of scenery is exactly what his workers need. When he excitedly reveals plans for an outdoor retreat the next day, the employees are thrilled.
Later, the group gathers at the train station, ready for their adventure. When the train arrives, everyone sprints to the train doors in mass panic while Todd stands and watches, dumbfounded. Soon he catches on; the trains are overcrowded and in order to make it on board, you have to be aggressive. When the group realizes that Todd isn't going to make it, they get off and explain the situation. The second and third attempts are no better, and it isn't until his fourth attempt that Todd finally makes it onto the train, accidentally hitting a pregnant woman in the process. Thankfully, she's understanding about the situation, and respects Todd's determination to get on the train.
Tonya approaches her standard lunch spot to eat with Todd only to find Charlie sitting there by himself. An awkward moment ensues, and Tonya feels obligated to sit and eat with Charlie. They get to talking, and Charlie confesses that he's been having something of a dry spell since he's been in India. Tonya decides to take on Charlie as her new project and offers to help him get a date.
The train breaks down on the way to the retreat and things begin to fall apart. Todd decides it would be best to get some team-building exercises out of the way while the group is stranded, and convinces his disgruntled employees to do an exercise called "the human knot." The group gives up quickly and their frustration mounts, culminating in a series of personal attacks against one another. Before long, the group gangs up on Asha. The general consensus is that Asha has a sense of superiority now that she's engaged, and is constantly dumping her work on everyone else. Asha leaves the train car in a huff.
Tonya takes Charlie out to get his hair cut and gives him the 411 on dating. She tries to put it in terms he'll understand by comparing dating to hunting. Tonya tells Charlie that winning over a woman takes patience, just like hunting an animal.
Todd goes after Asha and mistakenly enters the ladies only train car. Explaining the pressure she's experiencing from planning her wedding, Asha admits her wrongdoing. Predictably, Todd gets kicked out of the train car by security. Rajiv proposes that perhaps cultural differences make Todd's approach to team building unsuitable. Instead, he suggests that Todd harness the power of workers coming together through the hatred of a common enemy, the boss.
Now that his education is complete, Tonya points out a girl she found for Charlie sitting by the Chai stand. The woman, Veena, quickly brushes him off. Tonya tries to salvage the situation, only to discover that Veena is actually interested in her. Charlie bounces right back, and starts asking out every woman who walks by, with no success.
Todd takes Rajiv's advice and sets a new plan in motion. He takes all the workers wallets for what he claims is a trust-building exercise, then ushers them off the train at the next stop, promising to buy them dinner. Instead, Todd stays on the train and says they have to figure out a way to get home as a team - with no money. As the train is pulling out of the station, Todd realizes that he's been robbed as the backpack full of wallets is nowhere to be found.
The team has found a way to get home, riding huddled together on top of a train car. Asha confesses that she feels bad for her behavior at work, and offers to cover for anyone who needs to leave work early the next day. When Madhuri points out that they're using what they learned by working together as a team, all her co-workers roll their eyes.