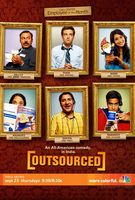 TV Info
---
Episode Premiere
October 28, 2010

Distributor
NBC

Genre
Comedy

Show Period
2010 - 2011

Production Company
Universal Media Studios


Cast and Crew
---
Director
Michael Lehmann
Screenwriter
Sonny Lee, Patrick Walsh
Main Cast
Synopsis
---
Halloween comes to the call center, but the team's a little lost on the concept. Todd pranks a few of his team members with remote controlled spiders, corpse hands, and the like, but they're more terrified than amused. Todd's got some teaching to do.
Todd explains how Halloween works in America, reminiscing about the great parties he used to throw. Feeling a little nostalgic and sensing that his team doesn't really understand the holiday, Todd decides to host a party for his co-workers at his swank corporate housing complex.
Todd, Charlie, and Manmeet plan the party over lunch in the cafeteria. Charlie infers that Todd's throwing the party as a way to get Asha interested in him. He's right. Tonya stops by and accepts an invitation; she'll also be bringing along some flight attendant friends. The guys smile: the party's possibilities seem limitless.
Jerry checks in via webcam from a massage table; he's at a corporate retreat in Hawaii. Todd would like him to fund the Halloween party, but Jerry responds that times are tough. In fact, Todd will need to leave his expensive corporate housing and get a room somewhere.
Rajiv connects Todd with Auntie-Ji, manager of a boarding house with a room to rent. Meals are included, as are use of the common room and a servant.
In the cafeteria, Todd encourages Asha to come to his party. She demurs; she's beginning her arranged marriage and should be reviewing the resumes of her parent-approved suitors. Todd's insistent, even performing a dance preview for her. She's mortified but amused.
The party's in full swing. Todd's dressed as Hugh Hefner, Manmeet is a "chick magnet," Gupta is, unknowingly, a pimp, Tonya wears a bikini top adorned with spices, Asha is a stunning Cleopatra. There are naughty nurses, American Indians, Michael Jackson; Rajiv comes dressed as Todd.
After he's hit upon by one of Tonya's friends, Manmeet discovers he's having a little performance anxiety living up to his lothario image. Todd puts them on the phone with each other, where Manmeet is definitely in his comfort zone. Todd smalltalks with Asha and they trickle out on to the dance floor. Could this be the night they get together? They dance in a close embrace.
Tonya finds Todd by himself and plants a big kiss on him. Asha witnesses the act and scurries off. As Todd follows her to try to explain, Charlie makes his entrance: he's a chainsaw-wielding homicidal maniac.
The next workday, Todd, Manmeet, and Madhuri compare notes on the party. Madhuri reveals that Asha left the party not because she saw Tonya kiss Todd, but because Auntie-Ji, the boarding house manager, told Asha her revealing Cleopatra costume was bringing shame to her family.
Todd finds Asha on the street and pulls her aside. He tells her that Auntie-Ji was out of line, that she should listen to her heart, not necessarily abide by what her family thinks is right. Asha's torn. Sensing the moment, Todd makes his move. They kiss a long and passionate kiss. Confused by what she's done, Asha scampers off.
Back in the office, Rajiv exacts a little Halloween revenge, placing a real spider on Todd's shoulder. Todd freaks out, the spider scampers off, and the office goes into chaos.