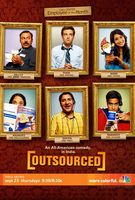 TV Info
---
Episode Premiere
October 07, 2010

Distributor
NBC

Genre
Comedy

Show Period
2010 - 2011

Production Company
Universal Media Studios


Cast and Crew
---
Director
Gail Mancuso
Screenwriter
Robert Borden
Main Cast
Synopsis
---
Todd's taken delivery of the latest Mid-America Novelties catalog products: racy t-shirts. With slogans like "Save water, shower together," "Mustache rides, 10 cents," "Spooning may lead to forking," etc., the staff is a confused and somewhat offended. But Todd assures them they're just for fun. The cultural gap is as wide as ever.
In the cafeteria, Charlie asks Todd if he's got a girl back home. Todd says he does, though it's not so serious; he's also a bit sheepish to admit he told her he was leaving the U.S. to go to Iraq. Charlie lets Todd in on his secret: today he's going to ask Tonya out. He's a bundle of nerves and insists that Todd stay put as his wingman to help with the encounter. Surprisingly, Tonya agrees to go out to dinner - but makes sure to include Todd in the invitation. They all agree to go out the next night. Charlie lets Todd know he needs to find a date of his own to bring along.
Back in the office, Todd asks Manmeet about how dating works in India. Manmeet explains how different it is in his country - and how alluring it seems in America. Still, he encourages Todd to ask Asha out. Emboldened, Todd marches straight to break room and confidently asks Asha if she'd like to join their group going out the next night. He encourages her to pick any restaurant; she hesitates ever so briefly, and then tells Todd that she'd love to join them. A moment later Gupta enters, jubilant that he'll be joining them too. Not exactly Todd's plan.
Madhuri approaches Rajiv at his desk and begins making small talk. It's quite uncharacteristic and Rajiv has no patience for it anyway. Madhuri relays a secret to Rajiv: a co-worker is making a personal call. As Rajiv storms over to yell at the employee, Madhuri secretly pockets his office key.
Todd, Charlie, Asha, and Gupta are at the restaurant/club waiting for a table. Todd notices men dancing with each other and asks Asha if they're at a gay club. No, she explains: in India men dancing is not unusual. Tonya arrives and the awkward party of five heads for the table. They take turns making toasts, revealing truths about themselves with a drinking game of "I Never." Todd learns that Asha is in the process of an arranged marriage: her parents will find a suitable set of suitors and she will review them.
Back at the office late at night, Midhuri lets herself in with the purloined key. All is quiet - until she encounters Rajiv, wearing pajamas and brushing his teeth. She explains that her relatives are visiting and there is nowhere for her to sleep at her family's house, so she took the key just for tonight. From appearances, Rajiv has been sleeping regularly in the office: a bed and personal belongings are scattered in a corner. He has been sleeping in the office because his father's air conditioner has broken and he cannot sleep at home. A contrite Madhuri offers to confess everything to Todd when they come to work tomorrow, but Rajiv thinks better of the idea.
Asha explains the advantages of an arranged marriage to the group. Todd is disillusioned. He tells Asha she should marry for love; she explains that couples can learn to love each other. As she's talking, Tonya surreptitiously rubs Todd's thigh with her foot. Todd thinks it's Asha coming on to him and seeks to return the favor, rubbing Asha's leg with his. Asha shrieks and storms off. Later, as Gupta flails by himself on the dance floor, Charlie and Todd drown their sorrows: their dates have abandoned them. They wander onto the dance floor to have a bit of fun themselves.
The news of Todd's disastrous date is all over the office: Gupta keeps no secrets. Todd talks to Asha about what happened. She forgives him and they begin a friendly chat about her next steps toward marriage. She explains that next she'll review her prospective husbands' "bio-data": info on their backgrounds, family, career, etc. Todd wonders if he could get on the list of candidates. Asha demurs, but says there is someone else considering him right now. She points to Tonya, who's staring at Todd through the office window. Alone outside, Tonya reveals to Todd that she's very much interested in him and encourages him to give up on the unobtainable Asha and pursue her. She wanders off. Todd returns to work, meeting a naked, hung-over Charlie on the street.
At the end of the day, as the call center team is filing out, Rajiv lashes out at Madhuri, insisting she read and sign her call log before she leaves. He slams a logbook on her desk and storms off. As she reviews the call log that Rajiv has given her, she notices he has left his office key hidden for her. She smiles. Despite his officious and superior tone to everyone, apparently the assistant manager has a heart after all.