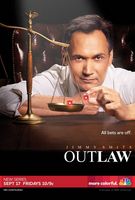 TV Info
---
Episode Premiere
November 06, 2010

Distributor
NBC

Genre
Drama

Show Period
2010 - 2010

Production Company
Universal Media Studios


Cast and Crew
---
Director
Tim Hunter
Screenwriter
Lukas Reiter, John Eisendrath, Adam Armus, Kay Foster
Main Cast
Synopsis
---
The situation at the Cyrus Garza School in Hastings, Alabama has gone way south, as evidenced by its derelict condition, and the teenaged gangbangers who roam the halls armed with automatic weapons. When one of them open fires on a pair of students, innocent bystander Kelvin Jones is killed instead. Back in D.C., Lucinda has been ignoring Eddie's calls all night. In a tizzy, he point blank asks if she killed Kershaw. Lucinda laughs it off, just as Garza announces his intention to fly to Alabama to see what's really going on with the school that bears his name. The doorbell rings: Detective Farrow has a photo of Kershaw, and wants to know if he's the same guy who ransacked Garza's house. The Medical Examiner has ruled his death a tentative suicide; Farrow's just doing due diligence.
After Farrow leaves, Garza pulls Lucinda aside. Kershaw showed up just as she started working for him, attacking Mereta, ransacking the house, and tailing Garza. He's got to run to catch his plane, but they will talk about it when he returns. Eddie's not content to let sleeping dogs lie. He doesn't know what Lucinda's capable of - after all, she stole the identity of a dead Delaware girl, didn't she? Principal Menzies tours Garza through the Cyrus Garza School. Apparently Kelvin was an amazing student, who started a student government, a school newspaper and a tutoring program on his own. Shrines to his memory have sprung up all over the school grounds.
Garza's surprised to find that the school building lacks both heat and metal detectors. Principal Menzies explains that she's asked the district to provide resources to protect the kids, but they haven't. Garza moves on to the Jones' house where Kelvin's wake is in progress. Kelvin's mom Ellen introduces Garza to her daughter Kara and husband Randall, who immediately asks Garza to leave. It's too late for sympathy; the family tried to transfer Kelvin and Kara across town to Centennial Academy twice, but their requests were denied - the district never even responded! Adding insult to injury, all the white kids' requests for transfer are always granted. Now Kara's trapped in the school where her brother was murdered.
Filled with quiet outrage, Garza calls home to give Al the lowdown. There are two schools in Hastings: Cyrus Garza, which has no books, computers or money and is full of black kids; and Centennial Academy, which seems to have all the white kids, all the computers and all the money. Whatever happened to Brown vs. the Board of Education - which was 56 years ago already? Maybe Garza should have known, but it turns out that most big city public schools have and higher black and Hispanic enrollment. Garza plans to speak at Kelvin's memorial, and wants Al and Mereta to join him.
The school board assembles on the stage of the Garza school's ramshackle auditorium for Kelvin's memorial. Garza invokes the spirit of Martin Luther King, certain that were King alive today, he would march in a situation like this. Since Garza's half the man King was, he can't organize a march, so he'll file a lawsuit instead. He doesn't have to tell any of the assembled parents and students that the school's unsafe, or that the district won't invest in it. In Garza's mind, this policy of neglect led directly to Kelvin's death, so he's going to file a wrongful death suit against the school district. The auditorium erupts in a standing ovation. Afterwards, Randall Jones apologizes to Garza, offering the gift of a graduation tassel with the number 12 on it. Randall's grandfather graduated from the same high school in 1912, and Kelvin would have graduated in 2012. Garza promises to hold it for luck; if he wins the case, he'll give it back.
Kara Jones takes the stand in Mobile's Superior Court to describe student life at Cyrus Garza. Everyone knows who "claims the sets." Sets are the gangs that control the school, and the teachers can't or won't stop them. The counsel for Hastings School District, Victor Harmon objects to everything: Kelvin was clearly killed in a gang shooting. Saying the school killed him is straining the law to its breaking point. Garza counters. The district forced Kelvin to learn in a world where "good kids" can't survive. And if things don't change, clearly it will happen again. The judge has to agree with Harmon, and asks Garza to prove the school had prior knowledge of the shooting and failed to protect Kelvin. He can't. Back in D.C., Eddie and Lucinda are scrambling to gather segregation stats when the doorbell rings. Detective Farrow found photos of Lucinda in the trunk of Kershaw's car, and the lab tests came back - his death wasn't suicide.
Back in court, Garza asserts that the school didn't have to pull the trigger to be liable for Kelvin's death. Still, the judge rules that any omission on the part of the school is too remote to meet legal standards for causality. Outraged, Garza demands to know how this could happen in 2010, then pledges to file a class action suit against the entire school system for willful and deliberate segregation in violation of the 14th Amendment. When Harmon points out that Garza needs to certify a class action, the judge asks both lawyers to step to the bench. Hastings County doesn't need a fancy lawyer to start a crusade and disappear. But off the record, Garza may be onto something. If he wants certification for his class action suit, he's got 48 hours to gather 300 plaintiffs.
Garza, Mereta and Al hit the streets to gather signatures, but most folks are skeptical, especially when they learn Garza stands to make profit on a requested $7 million settlement. With only 41 signatures and very little time, Garza resolves to find someone with a loyal support base, who'll bring the signatures to them. Meanwhile, Lucinda and Eddie are at the D.C. police station in the interrogation room. The cops found skin samples under Kershaw's fingernails, and want a DNA sample from Lucinda for comparison. Proclaiming her innocence and refusing to cooperate, Lucinda gets feisty with Farrow, who leaves her to stew. When Eddie presses, Lucinda admits the cops will discover something she doesn't want them to, but refuses to name it. Hoping to get traction, Eddie threatens to tell Farrow about finding Lucinda's name on a gravestone in Delaware, but backs down when she gives him a dangerous look.
At the graveyard, Garza approaches Mayor Warner Young to explain his class action suit. Young's concerned that people will perceive the problem as his fault, and he's heading into an election. Garza promises he's going forward with his lawsuit one way or another. Young can take credit for their success or not. Young agrees to help on the condition that Garza name him a "great humanitarian" in a press release. That night, the team gets to work, figuring out how to prove the school district is intentionally segregating students, which in turn affects the quality of their education. When Al claims they need a great first witness, Mereta points to the only member of the Board of Education to come forward thus far, Archibald Breech.
Garza puts Breech on the stand to explain the character of Hastings county. There are about 2500 students, black and white, evenly distributed. The kids are supposed to attend the school in the district where they live, but somehow, Centennial's student population is white and black, while Garza's is the opposite. Last year 300 white kids transferred out of Garza, apparently because the county allows it. According to Breech, the lie goes like this: students learn best where they're "comfortable." On cross examination, Harmon establishes that Beech went along with these so-called racist procedures without protest - perhaps because he's intending to run for superintendent himself.
Back in D.C., Eddie's relieved when Farrow decides to let Lucinda go, explaining he got a DNA hit and found a woman who confessed to Kershaw's murder. Surprised, Lucinda recognizes Kershaw's wife Greer on the way out. Lucinda remains silent, but Greer thanks her for being brave enough to believe her daughter Valerie's tale of incest and save her life. Greer always knew of her husband's guilt; finally, the idea that he would find Valerie became too much. When she asks if Valerie's okay, Lucinda promises that wherever she is, Valerie's fine. Back in court, Transportation Director Marvin Jackson describes how school buses crisscross town to transport all the white kids past Cyrus Garza School to Centennial. In fact, if all the kids went to the schools they're supposed to, he could cut six buses from the fleet. And yes, the taxpayers pay for all of it.
Suddenly, several people jump up and run out of the courtroom. Mereta advises Garza to ask for a recess and they rush down to the Garza school to find that Superintendent Garver has suspended not only all school bus routes, but all sports, art classes, tutoring and extracurricular activities as well. Garza finds Garver spouting vitriol at a local reporter, claiming the district can't support an expensive lawsuit and continue to fund Cyrus Garza School - it's all Garza's fault. The next day on the stand, Garver makes it clear that he sees any allegation of racism to be a personal attack. As an educator, he doesn't control the system. Even though he doesn't review every request for transfer out of Cyrus Garza High, all of them get approved.
On cross, Garza points out that as a public official, Garver has a duty to uphold the Constitution and enforce the law - it's not about what some people want. How does he explain the fact that in every expense category, the district spends more money on Centennial? And why was Kelvin Jones denied transfer? Garver can't believe Kelvin's transfer application was denied on the basis of race, even though he didn't see it himself. Afterwards, Garza and Al track down Garver's former assistant, who would have been the one to actually look at all transfer applications. Now a teacher in a neighboring county, Penny Rogovin insists she did point out the racial inequity to Garver on several occasions and was fired for it. She did know Kelvin, a student everyone loved, and yes he did file for transfer twice. But there's more to that story...
On the stand, Penny explains that Kelvin visited her both times his father filed for transfer and asked her to withdraw his application. He didn't want to go to a white school, preferring to stay in his own school and make it a place he could be proud of. When Penny showed Garver the unfair numbers, he told her to grant all the transfer requests anyway - he didn't want to get involved. Back in D.C., Lucinda musters up something of an apology for acting like a wildcat in the police station. When Eddie apologizes for doubting her, she explains that she too was an abused child. The organization she works for took her in when she was five, gave her and her mother new identities, and helped them start new lives. She didn't want to give her DNA to the cops because she's on file with the National Center for Missing and Abused Children.
In his closing statement, a passionate Garza reads from Brown vs. Board of Education, reminding everyone that it's been over 50 years since the Supreme Court decided that separate but equal has no place in education - because it's never equal! Today, American schools are more segregated than they've been in over 40 years. It's time to move forward together to correct the situation once and for all. In his short closing statement, Harmon claims that the county didn't intentionally segregate anyone, and it's time to get back to the business of teaching. Garza points out that teaching is not a business. If Kelvin saw it that way, he would have assured his own future and ditched his school in favor of better opportunities. Instead, he invested everything he had in the welfare of others.
The jury finds for the plaintiff and assesses damages in the amount of $11 million. The judge issues a verdict instructing the county to halt all transfers and reintegrate both schools. But Garza thinks the kids can't wait for his namesake school to be renovated, and asks the judge to merge the schools instead, naming the new, unified school after Kelvin Jones. Afterwards, Garza asks Randall Jones if he can keep his grandfather's tassel, offering up his team's $3.6 million share to start a scholarship fund in Kelvin's name. Randall is speechless, but Al's got a few choice words. Leave it to Garza to obliterate the school named after him! Garza laughs - that's nothing. The hardest part will be telling Claire he just gave away her $3.6 million.