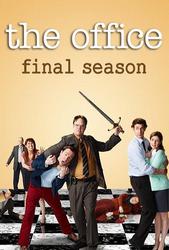 TV Info
---
Episode Premiere
February 09, 2012

Distributor
NBC

Genre
Comedy, Drama

Show Period
2005 - 2013

Production Company
Reveille, Deedle-Dee, NBC Universal


Cast and Crew
---
Director
David Rogers
Screenwriter
Amelie Gillette
Main Cast
Additional Cast
Synopsis
---
The office team welcomes Pam back. She tells them that she could have used some more time off, but after eight weeks, she's ready to return. Angela arrives a few moments later; she's also returned to work - in her case just days after giving birth. Angela takes off her sweater, and the staff remarks how slim she looks. Angela brushes the blandishments off and hands out some homemade brownies and magic cookie bars as a thank you to her co-workers for covering while she had her baby. Pam, feeling inferior, begins to offer her own token of thanks: cash. Jim quickly quashes the idea.
Andy calls Dwight into his office with some exciting news. Dwight's been selected to go to Sabre corporate headquarters in Tallahassee for three weeks to lead a team developing a chain of Sabre retail stores. Dwight shrieks and celebrates. In interview, he explains that the Schrutes have a word for when everything comes together perfectly: PerfektenSchlag - and he's feeling it right now.
Andy makes small talk with Erin. She notices his heart-shaped pin on his lapel; it's a gift from Jessica. To Erin's disappointment, Andy and his girlfriend seem closer than ever. Valentine's Day has found another happy man. On his desk, Darryl notices a knit beanie, a gift from Val, the warehouse manager. He's thrilled at the gesture but isn't sure if it's a romantic gift or a friendly gift. He's determined to find out by giving Val a romantic gift of his own.
Dwight starts recruiting the team he wants to take to Florida. His first recruit is Pam. The prospect of three weeks in Florida is hard to pass up; Jim chimes in that he'd love to go too. Dwight kiboshes that idea: this is for competent team members only, he tells Jim.
Darryl, wearing the cap, finds Val in the warehouse to give her his gift. But as he starts talking to her, he notices that all the warehouse workers are wearing hand-knitted caps; Val's given everyone the same gift. Afraid that his romantic gift for Val will seem over the line, he scrambles and gives his wrapped gift to a nearby Nate. Nate's thrilled; he's always wanted a pair of cashmere gloves. Darryl tells Val that her gift is coming later.
We see Dwight scouring the office, considering who he wants to bring to Florida. His dream team: Oscar, Pam, Toby, Darryl, Oscar, Phyllis, Stanley and Angela. He also notes who he doesn't want: Meredith, Erin, Kevin, Creed and Cathy. He presents his request to Andy, who immediately pushes back. He can't lose so many essential people for almost a month, he tells Dwight. Andy counters with his own thoughts on who should accompany Dwight. It includes Darryl and Phyllis but also has Cathy, Kelly and Kevin.
Jim receives a text from Robert California that says, "Bring your clubs to Florida." He's perplexed. Does this mean he's definitely going, even if Dwight doesn't want him there? Jim truly doesn't want to go, so he asks Pam for help in crafting a friendly text response saying thanks but no thanks. After conferring with Pam and Erin, he sends a text off stating that as a new dad he needs to stay close to home. Robert's immediate response is "lol."
Darryl fields a phone call from a man who's looking for the warehouse's address so he can send flowers to his girlfriend. Darryl realizes that Val has a boyfriend. Heartbroken, he takes off the cap that Val knitted for him.
Dwight announces that Cathy, Phyllis, Darryl, Kevin and Kelly are coming with him for the Florida trip. When those who are not on the list complain, Dwight summons Andy out to explain. Hearing his disgruntled workers, Andy invites anyone who feels he or she should be going to prepare a case, and he and Dwight will hear them each out. Ryan, Stanley, Jim and Toby all make their cases. Andy makes the final call: heading south will be Cathy, Erin, Stanley, Ryan and Jim. Dwight is not pleased. He goes into the conference room, slams the door and screams.
Dwight assembles the team in an overheated conference room, ostensibly for a Florida briefing. But his real intention to is scare and intimidate people into thinking they don't want to go. He's released 300 mosquitoes into the room, posted frightening pictures of hurricanes and alligators and screams at each team member to opt out. No one does.
In the warehouse, Nate reciprocates by giving Darryl a handmade coupon book good for small favors. He leaves, and Darryl quizzes Val about the flowers she's received. She explains they're from her mother; Darryl presses her on it, relaying the phone call he fielded earlier. Val sticks with her story. Darryl's convinced more than ever: the beanie Val gave him was indeed a romantic gesture.
Dwight assembles the Florida team again and explains the project to them. Erin and Ryan already have some good ideas. Dwight writes them on the white board explaining that his vision of the stores is that they'll be all business. Jim asks what expectations Dwight has of the team. Dwight runs down everyone's potential; in interview, he explains that under the right manager it's not such a bad team after all.
Ryan says goodbye to Kelly; Jim says so long to Pam; Erin hugs Andy. Little does Andy know that Erin is not planning to return. In the parking lot, we see Cathy talking on the phone. She's excited about an all-expenses paid trip to Florida, especially one where she'll be around Jim the whole time. Will she make a play for him? Of course. "That marriage is not good," she tells the person on the other end.