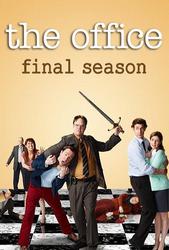 TV Info
---
Episode Premiere
October 13, 2011

Distributor
NBC

Genre
Comedy, Drama

Show Period
2005 - 2013

Production Company
Reveille, Deedle-Dee, NBC Universal


Cast and Crew
---
Director
David Rogers
Screenwriter
Charlie Grandy
Main Cast
Additional Cast
Synopsis
---
Andy's proud: his face adorns the new Dunder Mifflin outdoor ad campaign that's all around Scranton. Unfortunately, Jim reports to him, hoodlums have already started defacing the billboards, adding phallic symbols in a crude attempt at humor. Erin reveals to a terrified Andy that the ads are contracted to be up for six months. Most staffers, including Dwight, think it's amusing - until Dwight realizes that he posed for a photo with Andy. Dwight runs outside to the sidewalk where he witnesses the horror: a photo of him on all fours with Andy standing behind him.
In the conference room, Andy briefs the team on his upcoming major social event: a garden party to be held at Schrute Farms. They're all invited - and it's critical that they demonstrate proper etiquette at the party. It's not a barbeque or a picnic, Andy emphasizes - it's better. He explains the dress code is "Connecticut casual" and then shows an online clip of a recent garden party thrown by his family. Clearly, Andy's got some high expectations to live up to. Asked if Robert California is coming, Andy admits he will be. The office now understands why Andy is so uptight: he wants to impress his new boss.
Dwight's excited too. Hospitality is an important new revenue source for Schrute Farms. He gives explicit driving directions to the staff, then warns them to avoid looking for directions on the Internet. Jim senses something embarrassing. Sure enough, Jim finds an online street view shot of the farmhouse with Mose and Dwight on a teeter totter in the foreground. Dwight is studying a book on garden party etiquette he purchased online. Little does he know that it's Jim who has secretly written and published the book just to embarrass Dwight. Jim's nom de plume: James Trickington.
Moms-to-be Angela and Pam are sharing stories and small talk in the breakroom. Pam lets it slip that her upcoming boy will be named Phillip, in honor of her grandfather. Angela is shocked: that's the very name she has picked for her unborn son; she's naming him after her favorite cat.
As he's changing clothes for the party, Andy has an awkward phone conversation with Robert California over what sort of gift he should bring, a basil plant or marmalade. At Schrute Farms, the party is just starting. Acting as a parking valet, Dwight's cousin Mose greets Toby as he pulls up. Toby would prefer to park himself, but Mose forces him out of the car and then drives off at high speed into a cornfield.
The guests continue to arrive, dressed in garden party finery. As they enter the grounds, Dwight bellows out their names; he's following rule number two of Jim's etiquette book: as a sign of honor to all, arriving guests must be announced as loudly as possible just as they enter. Andy's parents show up and begin visiting with Andy's team; their disappointment is clearly visible as they realize that their son is not the CEO, as they'd believed.
The genteel party continues. Kevin hijacks the hors d' oeuvres. Dwight, upon hearing some harpsichord music, vaults into a court dance with one of the waitstaff; it's another host "must" per Jim's book. To his chagrin, Andy learns his parents have brought along his brother, Walter Junior - clearly the favored Bernard child. Robert California arrives, bearing the wrong gift.
Andy kicks off the toasts by complimenting his amazing staff. Darryl follows with a toast to Robert California. Angela is next; she toasts her unborn baby, Phillip. Pam immediately follows suit, also toasting her unborn son Phillip - and explaining the name is the fulfillment of a promise she made to her grandfather years before. Ryan toasts the troops - for both sides. Gabe also toasts Robert California. He's abruptly taken to task by Andy for a breach of etiquette. Finally, Robert himself speaks. He contends that he and Andy do nothing; it's the staff that makes them look good.
Gabe tries to toast Robert California yet again, but Andy interrupts him. He straps on a guitar and summons his father to the stage for a father-son duet: an acoustic version of Extreme's "More Than Words." After a few false starts, they still can't quite get in sync. Andy's dad borrows the guitar and they try again. Finally, Andy's dad invites Walter Junior up to the stage. The two Walters harmonize beautifully on Dylan's "Forever Young." Andy cuts them off before they finish, grabbing the guitar and abruptly walking away.
While Mose aborts a scooter attempt to jump over the guests' parked cars, Dwight enjoys a private moment with Robert California. California encourages Dwight to continue pursuing Schrute Farms' burgeoning party business; he might even have his birthday party there, he tells Dwight. Excited, Dwight details the amenities he can offer, including goats and exotic meats, like hippo-burgers.
Andy heads inside to gather himself and to play with baby Cece. His father finds him and questions what happened. Andy confesses he was out to try to impress his parents with the party. His father responds that he's not impressed - not by the party and not by Andy's job as a manager for a "rinky dink paper company." He tells his son he needs to stop seeking his approval. All the while, a baby monitor in the room is picking up their conversation and relaying it to a receiver at a table where Pam, Jim, Erin, Oscar and Darryl listen in pain.
Andy's parents and brother leave. A dejected Andy tells his remaining co-workers he's getting ready to go too. But they want him to stick around and enjoy himself. Darryl commandeers the grill and starts cooking hamburgers. Andy settles in with his people. They all marvel as Dwight's closing ceremonies begin: the waitstaff, bearing lit torches, marches in unison.
We see a scene from earlier in the party: Jim messing with Dwight by continually crossing the imaginary line at which a guest must be loudly announced. He asks Dwight quietly: who does he think the best salesman in the office really is? Before Dwight can respond, Jim crosses the line. "Mr. James Halpert," yells Dwight.