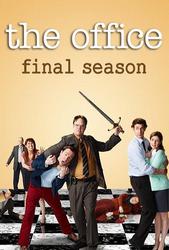 TV Info
---
Episode Premiere
April 28, 2011

Distributor
NBC

Genre
Comedy, Drama

Show Period
2005 - 2013

Production Company
Reveille, Deedle-Dee, NBC Universal


Cast and Crew
---
Director
Paul Feig
Screenwriter
Greg Daniels
Main Cast
Additional Cast
Synopsis
---
Michael enjoys his last days at Dunder Mifflin lounging on the roof, training for the high altitude in Colorado. Dwight pays him a visit and tricks him into eating fried bull testicles (they were fresh cut by Dwight himself this morning). Dwight confesses that he still resents Michael for not recommending him as manager, to which Michael explains that the position was not his to give. But all is forgotten when Michael seeks advice from Dwight on how to handle the bears that he will inevitably encounter in the Rockies.
After his very public breakup with Erin, Gabe's paranoia is at an all time high; he traps Andy in the bathroom and verbally assaults him, warning him to stay away from Erin. Jim witnesses the commotion, but is more concerned by the fact that the video team is now filming people in the bathroom than by the actual incident.
Michael finds the party planning committee hard at work planning his farewell party. When Meredith tells Michael that they've chosen mint chocolate chip ice cream, his favorite, he tells them to go with vanilla; he just wants everyone to be pleased and have a good time - no drama.
Michael decides to give parting gifts to each member of the office. While he gives small toys and trinkets to Phyllis and Stanley, he gives the folders of his ten most important clients to Andy, surprising everyone in the office. Michael tells Andy that he's the best salesman in the office; he just hasn't realized it yet. Michael believes that having the best clients will drive Andy to be successful. Andy outright tells Michael that he will lose these clients if he is held responsible, but Michael insists.
For Kevin, Michael symbolically rips a caricature of Kevin as a pig in half, telling him that he will be thin, and to never settle for who he is. To Oscar, he gives a miniature scarecrow figurine that he clearly made on his own, to symbolize the "brain" that Oscar gave to Michael, just like in "The Wizard of Oz." Apparently it was intended as a joke on Michael's part, but Oscar accepts it as a serious gift.
When Michael discovers that he doesn't know what town he's going to be living in, he freaks out and realizes that he's not ready to start all over. He doesn't know what channel his TV shows are going to be on, and he is not going to start his improv classes again at level one. But when he calls Holly to tell her that he can't do it, hearing her voice gives him a change of heart. When she tells him that she'll pick him up at the airport tonight, Michael reveals to the camera that he lied; today is actually his last day, he's heading to the airport at 4:00 p.m.
Michael continues his goodbyes one by one. He somehow manages to keep his cool with Toby, escaping the conversation unscathed. The best gift he can give to Kelly is simply leaving her alone so she can get back to texting. He gives Ryan his St. Pauli Girl beer sign, but only after making sure he isn't prone to seizures. He attempts to say goodbye to Pam, but she's on her way out to look at paper shredders. To Daryl he gives the only copy of his unfinished screenplay, "Somehow, I Manage." His farewell to the warehouse includes many failed attempts to make a behind-the-back shot in the basketball hoop.
Andy, terrified by his newfound responsibility, requests Deangelo's backup on an important client meeting. On the way to the meeting, Deangelo demands that they stop at an animal shelter to get pumped up; apparently he once retrieved a stolen dog for a stranger, who was so grateful that she hired him. Since then, the event has been his source of inspiration.
Gabe is determined to win Erin back, whatever it takes, but Erin resists his efforts. She seeks Michael's advice and confesses to Michael that she's actually in love with Andy. Michael tells her not to rush into anything; she's fun, pretty and smart, and when the right guy comes along, she'll know.
Michael surprises Dwight with the letter of recommendation he's been begging for. His cynical attitude disappears when he realizes that the letter is actually very heartfelt and meaningful. In the envelope he also finds a personal note from Michael: "2:45, behind the building, paintball." The two have a fun-loving but vicious paintball war.
In the client meeting, Deangelo seems to be throwing Andy under the bus, claiming that Andy is definitely no Michael Scott and taking him on is either going to be the best decision or worst decision the client can make. Unsurprisingly, the client decides not to re-up with them, leaving Deangelo irrationally angry. On the way out, Andy goes back to speak to the client, apologizing for Deanglo's behavior and making a case for his abilities. When Deangelo later gets a call accepting their offer, Andy lets him believe that it was a result of Deangelo's horrible sales tactics.
Michael starts tripling up on goodbyes; there really isn't enough time in the day to have a special moment with everybody. Gabe tells Michael that he's going to quit, but Michael tells him to stop being so melodramatic; everyone gets dumped. Michael offers a piece of advice: putting a bit of cover-up on his Adam's Apple will make him look like less of a transvestite.
It's 3:40 p.m. - time is running out. Michael calls everyone into the conference room to reveal his news, but simply can't bring himself to do it. Jim takes him aside to let him know he's figured out his secret, and Michael admits that it's true. Michael and Jim share a sentimental moment when Jim tells Michael that he was the best boss he's ever had.
Michael leaves the office with his secret intact. Luckily, Pam catches him at airport security and they share a hug before he walks off, suitcase in hand. The next day at the office, Deangelo is battling his dieting demons; he eats a piece of cake with his bare hands, then spits it out, only to grab another chunk of cake with his hands and then throw it out after screaming at himself. The gang looks at each other, realizing that they're in for more than they bargained for with Deangelo.