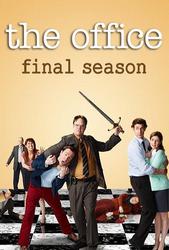 TV Info
---
Episode Premiere
March 24, 2011

Distributor
NBC

Genre
Comedy, Drama

Show Period
2005 - 2013

Production Company
Reveille, Deedle-Dee, NBC Universal


Cast and Crew
---
Director
Steve Carell
Screenwriter
Jon Vitti
Main Cast
Additional Cast
Synopsis
---
Everyone is setting up for the first-ever Dunder Mifflin garage sale in the warehouse. Pam explains that 10 cents of every dollar is going into the party fund, so they can throw parties for themselves. Dwight announces with a countdown that it's time to open the doors. He opens the garage door to the outside, but there's nobody there. Everyone complains about the cold. Dwight insists that having the door open will lure business in, but Pam argues that people will come in the front. Andy leaps onto Dwight's back to hit the button to shut the garage door.
Dwight criticizes Meredith's sign for being crooked. He offers a thumbtack to fix it, but only if she'll swap something. Dwight has decided that since "Schrutes are farmers by hobby and traders by trade," he's going to practice the art of the swap to walk out of the garage sale with the finest item available. Dwight convinces Meredith to trade her used candle for his thumbtack.
Meanwhile, Kevin zeroes in on Michael's neon St. Pauli Girl sign. Kevin bargains with Michael for the sign while Holly tries to facilitate the sale. After Michael tells Kevin to get lost, Holly tells Michael he doesn't have to get rid of it. Michael insists that it's more for a bachelor pad, but he just wants to get a fair price. Holly suggests he put it in storage, "just in case." Michael assures Holly that he doesn't have an "in case." She doesn't either. They smile.
Dwight convinces Kelly to swap Meredith's half-used candle for a bunch of chick lit books. He accomplishes this smooth move by suggesting that having a half-used candle at home might make Ryan wonder who else she's seeing. Andy finds a "Dallas" board game on Kevin's table. Darryl suggests they play it, but Andy is concerned that there aren't any instructions. Darryl is confident they'll figure it out. He suggests they make things interesting with a wager.
Holly talks on the phone with her mother. She learns that Michael called her father and thinks she knows what it's about. Holly asks to speak with her dad. Her father is confused on the phone and her mother isn't much better.
Pam gets two coffees from Hank. She asks him which is decaf, which causes him to take them both back. Out the window, Pam sees Michael dribbling gas out of a gas can. She runs outside to see what Michael is doing and maybe stop him. Michael needs more gas, because he's planning to ask Holly a question in fire. Pam guesses that he's proposing to Holly. She's very excited for him. Because Michael has gas all over him, he asks Pam to light it. She agrees, then takes the gas can and runs off. She tells him that proposing is a great idea, but doing it this way isn't. Pam goes to get a hose, promising to help Michael.
Dwight browses Ryan's table, where he's selling his mother's homemade pesto in jars with Phyllis' photo on it. Dwight's trading has thus far yielded him Stanley's old photo album, which he tempts Ryan with. Dwight reports that his swapping is going very well, and after trading Ryan's "junk," he has Erin's stuffed squid. Dwight returns to Jim's table, where the packet of "magic beans" is once again front and center. Dwight tells Jim to put them away, but his interest is piqued. He asks Jim about them. Jim says Dwight will just make fun of him, then Jim dramatically takes the packet and stomps on the beans.
Pam knocks on Michael's door. She tells him everyone is waiting in the conference room for a meeting he called. As soon as Michael walks into the conference room, Pam stops him. She tells him they're all a family. Jim, Oscar, Ryan and Pam are all thrilled for Michael and they want to help him come up with a great, but also safe, way to propose to Holly. Oscar advises Michael to keep it simple.
Holly checks out the items on Phyllis' table, taking the opportunity to ask Phyllis about her mother. Phyllis says she's doing okay, making some friends and it's already better than it was. Holly wonders how you know when it's "time." Phyllis responds that you don't ever know, but if you wait for your parent to say he can't take care of himself, it's never going to happen.
Back in the conference room, Michael is still discussing proposal ideas with Pam, Jim, Oscar and Ryan. Michael shows them the gorgeous ring he plans to propose with. Pam is impressed, and tells Michael that Holly will love it and he just needs to keep the proposal simple. She tells Michael the story of how Jim proposed at a gas station when she was in New York. Michael wants his proposal to be an event that everyone talks about always and forever. Michael is terrified and doesn't know why. Jim does - it's because it's a big deal. He knew Pam was going to say yes, but he was still scared. Pam finds that sweet.
Michael finds Holly in the break room. She tells him she has to go home to Colorado because her dad isn't doing so well. Holly wants to be there while her dad is still her dad and she doesn't know how long she'll need to be there. Holly wants Michael to go with her. He says that he will and Holly starts to launch into her own proposal. Michael stops her. He is not getting proposed to in the break room. That will not be their story.
Kevin, Andy and Darryl continue arguing about the rules of the "Dallas" board game. Kevin wants his money back, but when they look, the money is gone. Kevin says he's never playing games with Andy and Darryl again. He steps outside, then reveals that he pocketed the cash, declaring that "is 'Dallas.'"
In the warehouse, Dwight lugs a telescope by Jim's table. He sees that an intact packet of beans has reappeared on Jim's table. Dwight's sold - he'll take them. Jim tells him to leave the telescope. Dwight tries to convince himself that he did the right thing. Through all his swapping, the beans only cost him a thumbtack, and he can always buy a telescope.
Michael finds Holly in the warehouse at the end of the garage sale. She starts to say that she's not going to Colorado, but Michael stops her. He wants to take Holly for a walk and show her some stuff. Michael shows Holly his favorite place in the whole world, the spot where Toby announced he was going to Costa Rica. He couldn't imagine being any happier - until Holly showed up to replace him. Next, Michael takes Holly to the spot in the stairwell where they first kissed, then where they first made love. He shows Holly the window through which he first saw her, and a few other memorable places in the office.
Michael leads Holly into the kitchen. The entire office staff is in there, lining both sides of the kitchen, creating a pathway. They each hold a lit candle. As Michael walks Holly through the room, various team members ask Holly to marry him or her, which she of course declines. Michael kneels down to propose as the entire office watches through the blinds. Before he can get the words out, the candles set off the sprinkler system, and Michael and Holly get soaked. Michael delivers the question in his Yoda voice and Holly responds affirmatively in kind. The office erupts in cheers. Then Michael drops the bombshell - he and Holly are moving to Colorado. Michael and Holly kiss as everyone looks on in stunned silence.
Outside, Dwight waters the planters that hold his magic beans. He tends them with care. After he goes back inside, Jim comes around the corner with a tray of foot-tall bean plants to put in Dwight's pots.