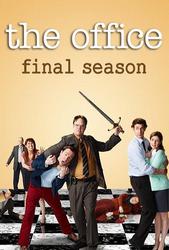 TV Info
---
Episode Premiere
November 11, 2010

Distributor
NBC

Genre
Comedy, Drama

Show Period
2005 - 2013

Production Company
Reveille, Deedle-Dee, NBC Universal


Cast and Crew
---
Director
Ken Whittingham
Screenwriter
Jon Vitti
Main Cast
Synopsis
---
Erin tells Michael that Gabe is hosting a party for the television show "Glee" and Michael immediately acts like he's too busy to go. Meanwhile, the other co-workers in the office are wondering if they want to go or not.
Michael decides to go to Gabe's Glee viewing party. Erin welcomes all the coworkers to Gabe's apartment, where she is obviously enamored by how nice it is. Michael is already in a sour mood because Kevin pointed out that nobody had a choice about going because in reality, Gabe is everybody's boss.
When Gabe takes the remote control out of Michael's hands, Michael throws a tantrum and watches the show in the bedroom. Meanwhile, Kelly loses her patience with her co-workers who have never watched the show before because they keep asking questions.
Pam and Jim have been having difficulty with Cece's sleeping schedule. At the party, the baby begins to fuss and Dwight takes her and cradles her to sleep. When Angela sees Dwight with Cece, she wants him back at her place. Pam begs Dwight to stay with her and Cece. Dwight agrees, only if he can make Jim do whatever Dwight demands for the rest of the night.
Andy takes a questionable ancient drug from the Orient that he found in Gabe's room and begins having strange side effects. Erin is concerned about Andy's behavior and he leaves out of embarrassment. He runs to Gabe's guest room and throws up. Phyllis is there to console Andy as he confesses he still likes Erin.
A bitter Michael pulls the cable cord out at Gabe's, causing the party to be a bust. When he comes back inside the apartment, he says he just got back from a run and wonders why nobody is watching television. Michael says he'll try to save the party and goes back outside.
Pam goes outside to find Angela. She finds Angela naked in her car waiting for Dwight. Pam begs Angela to let Dwight stay with Cece for the night and says she'll promise Dwight will have sex with her the next night. Angela reluctantly obliges.
Erin goes outside and catches Michael fixing the cable cord he pulled. She tells Michael it bugs her that he doesn't like Gabe and Michael realizes Erin kind of sees him as a father figure. The two have a silly argument making fun of their fake father-and-daughter relationship. Michael later tells Gabe to never break Erin's heart.