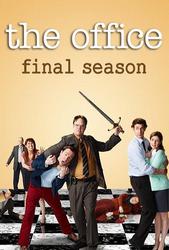 TV Info
---
Episode Premiere
March 19, 2009

Distributor
NBC

Genre
Comedy, Drama

Show Period
2005 - 2013

Production Company
Reveille, Deedle-Dee, NBC Universal


Cast and Crew
---
Director
Paul Feig
Screenwriter
Lee Eisenberg, Gene Stupnitsky
Main Cast
Additional Cast
Synopsis
---
The new VP of the Northeast region, Charles, shows up in Scranton to meet the branch. Michael immediately ushers his employees, as well as Charles, into the conference room for a surprise. In the conference room is a display of bagels all cut in half to resemble a "C" for Charles. Michael admits he already feels a good vibe with his new VP.
Michael introduces Charles to the rest of the branch. Stanley asks about layoffs and Charles breaks the news that there will be some budget cuts due to tough economic times. Of course, this is all news that Michael should have shared with his branch before Charles' arrival. Besides cutting back on overtime and office supplies, Charles also adds that there is a freeze on discretionary spending, like office parties.
Michael has plans of his own for a party and tries to usher Charles out, but Charles instead sets up shop in the conference room and says he's staying for the day. Michael immediately calls David and complains that he feels he's being too managed. Michael also wants to know if David will be coming to his 15th anniversary party. David says he'll try.
Out of all days, Jim decided to make fun of Dwight's memo about professionalism by wearing a tuxedo to the office. Now, Charles constantly has an eye on Jim and his work performance and Jim knows it. When Jim tries to explain his work title to Charles, Charles says Assistant Regional Manager isn't a real title. Jim gets shut down.
Charles buys lunch for everybody in the office, sending Michael over the edge. Michael now completely feels threatened by his new boss. Michael has more important things to do, like holding a meeting with Dwight, Jim, and Pam to decide the final details of celebrating his 15th anniversary with Dunder Mifflin, which includes cupcakes and strippers.
After Charles crashes the party planning committee meeting in the conference room, he shuts it down, citing it as not a good use of work time. Michael has had enough and gets in his and car drives to New York to confront David. Michael sees Charles as a buffer between him and David.
Angela and Kelly both develop crushes on the new VP. Kelly sets her sights on seducing Charles, but it's too late. He leaves for the day without saying goodbye to either one of the women. Kelly tries to chase him down in the parking lot, but instead, finds Angela doing the same thing while wearing Charles' scarf. Angela still believes she has the upper hand at winning his affection.
David appreciates Michael's honesty regarding Charles, especially when Michael believes after 15 years at Dunder Mifflin that he should have a little more respect. David agrees and wants to fit the bill for Michael's party, which he'll be attending. Michael says that's not enough and gives David his resignation, realizing he could do much better on his own.