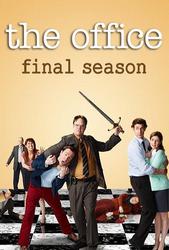 TV Info
---
Episode Premiere
October 23, 2008

Distributor
NBC

Genre
Comedy, Drama

Show Period
2005 - 2013

Production Company
Reveille, Deedle-Dee, NBC Universal


Cast and Crew
---
Director
Jennifer Celotta
Screenwriter
Charlie Grandy
Main Cast
Additional Cast
Jennifer Ann Burton
Stephen Saux
Synopsis
---
Pam admits that she ran out of money while living New York, so Michael pulls some strings and gets her a temp job at Corporate. Unfortunately, this now means Michael can reach her at any time while she's there.
Holly and Michael are continuing to see each other after hours. Michael's excited for his third date with Holly, especially because they are both on the same page when it comes to having sex on the third date. Before their date, Holly grabs Michael and the two begin making out in the stairway.
Andy is happily passing out "save the date" cards to everybody. A hurt Dwight goes to the kitchen and starts making a knife with a knife. Phyllis encourages Dwight to talk about it. He opens up about all the things that Angela introduced him to in the past. Dwight remains confused on why Angela is going through with the wedding.
The next morning, the office is in chaos because they were broken into the night before. A cheerful Michael and Holly begin to worry that they are responsible for leaving the building unlocked. Meanwhile, Jim listens to a voicemail from a drunk Pam at 3:00 a.m. and Dwight confesses to Phyllis that he wants Angela back. Phyllis tells Dwight he needs to force Angela to make a choice: him or Andy.
Michael calls everybody in the conference room to listen to his idea. He wants to orchestrate a charity auction so the staff can buy back the items that were stolen. Michael scores Bruce Springsteen tickets as the ultimate auction item.
Dwight takes the advice from Phyllis and gives Angela the ultimatum. She has until 6:14 that day to decide which man she wants to be with. Angela leaves in a huff, but Dwight reminds her the clock is ticking.
Let the C.R.I.M.E. A.I.D. auction begin! Michael starts the auction off with a yoga lesson from Holly starting at $300. Nobody bids against Michael and he wins the lesson. Meanwhile, Jim wins a day of drinking beers with the guys from the warehouse. Later at the bar, he runs into Roy, who joins them for drinks.
Dwight gets Phyllis outside and asks for more of her advice. He tells her that Angela has ignored his ultimatum and he needs to win her back. Phyllis thinks it's time for Dwight to let go and move on. This is news that Dwight does not want to hear.
The time has come for Michael to auction off the final item: front row tickets to Bruce Springsteen. Tickets that he all of a sudden can't seem to find and says they must have been stolen. Disappointed fans begin to walk out and Phyllis reminds Michael her hug is still up for auction. A bidding war ensues between Dwight and Bob Vance and Bob pays $1,000 for a hug from Phyllis.
Jim updates Roy about his engagement to Pam and her stay in New York City. Roy is surprised that Jim doesn't seem to mind having Pam so far away and partying with new friends. Jim later gets in his car intending to drive to the city to surprise Pam, but has a change of heart because he's not the kind of guy who has to check up on his fiancee.
Michael lets Holly know that he never really had Bruce Springsteen tickets. She had a feeling that was the case the whole time. She realizes there are so many parts of Michael that are too good to be true and she's happy to see they are all true. Michael grabs her and kisses her, a move that David Wallace sees.