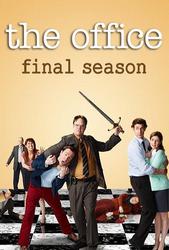 TV Info
---
Episode Premiere
April 17, 2008

Distributor
NBC

Genre
Comedy, Drama

Show Period
2005 - 2013

Production Company
Reveille, Deedle-Dee, NBC Universal


Cast and Crew
---
Director
Jeffrey Blitz
Screenwriter
B.J. Novak
Main Cast
Additional Cast
Barry Sigismondi
Brooke Dillman
Paul Faust
Terrence Beasor
Synopsis
---
Pam is becoming more and more annoyed with Michael and his indecisiveness about ordering a desk chair. In Michael's defense, he's become distracted by his crush on the woman who is modeling the chair in the catalogue. He reminds Pam that since the infamous dinner party, he is now a single man.
Michael announces to the office that he is now on the market. He's hoping one of his co-workers will come forward and want to set him up with somebody. Kevin informs Michael that Stacy broke up with him and now he's back on the market, too.
There is more chaos at the Scranton branch because of the parking lot situation. The employees at a construction business in the building have taken all the available spaces, leaving Dunder Mifflin employees having to park blocks away and walk. Andy and Kevin are determined to get their parking spaces back.
Michael gives all of his employees the assignment of finding him a date. They all have to submit a card with one name on it of a woman Michael can date. Jim starts off with Pam's mom a card she immediately throws away. The batch of cards comes in and Michael can't find one suitable date.
Dwight walks in and tells Michael he will find the chair model for him. Michael likes the sound of that and Dwight's officially on a mission. Dwight follows his leads and he finds out the woman has died in a car accident. This devastates Michael. He's lost his dream girl before he ever got a chance to know her.
Pam can't stand to see Michael in pain she so she sets him up with her landlady. They agree to meet in a coffee shop and he doesn't like what he sees. Michael is rude to Margaret and the date ends awkwardly when he walks out.
When Pam finds out the blind date didn't go well, Jim reminds her that it means she'll probably get kicked out of her building and be forced to find a new place to live. Jim calls her bluff and invites her to move in with him. She says she'll only move in if she's engaged. Jim says she needs to hang tight because that next step is coming soon. Later on, by himself, Jim shows off the ring he really did buy one week after he and Pam started dating.
After Andy and Kevin meet with the four other businesses in their building, they fight and win their parking spaces back. Andy and Kevin announce it to the rest of the employees and receive cheers. Later on, Andy celebrates with a dance in the parking lot.
Michael is still depressed that he hasn't found a girl to date. Dwight says Michael needs to go to the source of his depression and try to seek closure. The two end up at the gravesite for the chair model. Michael says his final goodbyes. Dwight tells Michael to hang in there because next year's catalogue will be out in no time and he'll find another chair model to fall in love with.