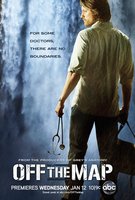 TV Info
---
Episode Premiere
February 02, 2011

Distributor
ABC

Genre
Drama

Show Period
2011 - 2011

Production Company
Shondaland Productions, ABC Studios


Cast and Crew
---
Director
Eric Stoltz
Screenwriter
Christine Boylan
Main Cast
Additional Cast
Ralph White
Nicholas Gonzales
Aimee Garcia
Jaime Zevallos
Ed Begley Jr.
Synopsis
---
Ryan's complicated relationship with Ben has her taking out her frustrations on jungle greenery with a machete. In other news, Lily needs meds to treat a patient with a staph infection. Unfortunately, the goods are stuck in customs down in San Miguel. Lily normally wouldn't mind making the four-hour drive into town with Ben. But she's a little flustered after catching him getting chummy with Ryan. There was no machete in sight.
San Miguel is a tough little town. Ben warns that the government officials are going to want a bribe before turning over the medical supplies. As expected, Lily has gobs of trouble getting anyone to turn over the meds. She tries to vent to Ben, but stops ranting when she catches him holding hands with a patient. Actually, it's not his patient. It's his wife.
Ben says his wife was shot in a robbery. She's been in a minimally-conscious state for five years. Lily thinks it's incredible that he isn't more of an angry jerk considering his situation. But Ben doesn't want her to make him out to be such a hero. He's kept his wife hooked up to machines for five years partially so he can keep cashing checks from her trust fund. It's her money that keeps the clinic going.
Lily plays hardball offering the customs officer 50 bucks and a promise that she'll never help him if he gets sick unless he hands over the meds. That'll work. Later, Lily meets a guy named Mateo who pays her tab at a bar. She usually doesn't drink with strangers, but it's been a rough day. Back at the clinic, Ben is upset to learn that Lily paid money for the meds. She claims she did what she had to do for the clinic, just like him.
A banana spider bite gave a bad case of priapism to a guy named Elan. The guy's a jerk, so Tommy's surprised to learn that Alma is his girlfriend. Alma, by the way, is a sweet girl he met at a cantina. She doesn't speak English, so Tommy's having trouble asking her why she's with Elan when there's a handsome young jungle doc right in front of her. This totally ticks off Zee. She tells Tommy that he knows nothing about Alma, which may be precisely the reason he likes her so much.
Elan thinks he'll be utterly humiliated once Alma finds out what's wrong with him. Tommy gives him a little beside pep talk about how women love it when a guy shows his vulnerability. He then tells Elan that he has a great girl out there and he shouldn't throw it away. Thanks to Tommy, he won't.
Nobody likes going to the dentist, so sometimes the dentist must go to you. That appears to be the case when Lily, Mina and Tommy catch sight of the dental chair floating down the river on a raft. It's all part of a traveling teeth care clinic. Mina is less than thrilled to learn she'll be hygienist to Dr. Hank the dentist. And Otis is horrified to hear that Zee signed him up to have his nagging wisdom tooth removed.
Mina and Dr. Hank treat an elderly man named Abuelito, who has been teaching young children at the local schoolhouse for 64 years. The old man has a nasty lesion on his soft palette. Blood gushes the moment they touch his mouth. Abuelito has a terminal case of oral cancer. All the kids love this guy, but Mina figures out his deep, dark secret. He came to South America 64 years ago to hide from anyone who knew he was a Nazi.
A military transport team is coming to take Abuelito away in the morning, but he probably won't survive the night. When the patient has complications, Mina makes aggressive moves to save him. Ryan believes they should honor the old man's wish to just die peacefully with pain meds, but Otis backs Mina's play. She saves the patient and stays by his side to make sure he remains alive long enough for justice to be served.
Zee makes good use of Ryan's machete when she learns that Otis thinks of them only as friends with benefits. Speaking of Otis, he finally relents and lets Dr. Hank yank out his wisdom tooth. But he refuses the pain meds. Otis was never afraid of the dental work. He was worried the narcotics would trigger a relapse for his addiction. The procedure is agonizing, but Mina is there by his side to help him see it through.