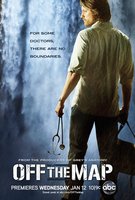 TV Info
---
Episode Premiere
January 26, 2011

Distributor
ABC

Genre
Drama

Show Period
2011 - 2011

Production Company
Shondaland Productions, ABC Studios


Cast and Crew
---
Director
Rob Corn
Screenwriter
Luke Schelhaas
Main Cast
Additional Cast
Aimee Garcia
Walter Perez
Tessa Thompson
Synopsis
---
There's a big three-day festival taking place to honor the patron saint of… Oh, who are we kidding? It's all about partying. Business before pleasure though. There's a car crash in the jungle. Ben, Lily, Tommy and Ryan arrive on the scene to find Sydney, a pregnant woman in labor. WHOOSH! A massive landslide hits, causing her husband, Roberto, to be pinned under a huge tree. Not good.
Ryan and Tommy hang with Roberto while the mom-to-be goes to the clinic. Tommy promises Sydney they'll get her hubby back to her. When the baby's heart rate drops, Ben orders an emergency C-section. Roberto wants to be there, so Ryan and Tommy use part of another tree for leverage to free their patient. Unfortunately, the guy has a pulmonary hemorrhage and the rescue team is stuck in the mud. Again, not good.
The festival begins with a bang when a man is electrocuted in a power grid mishap. The electricity is out everywhere, including the clinic. That's not good news for anxious patient Sydney. Her elevated BP makes it impossible to operate. Lily hopes to calm her by trying to get Roberto on the phone, but Ben learns his situation is grim. He uses info Ryan learned about the name of their son to give Sydney enough false hope to calm her down before surgery.
The team pulls off the delivery, but both mother and baby need a transfusion. They both have the same blood type, but there's not enough in the clinic's supply. They need a live donor and Roberto is compatible. The only problem is that Tommy and Ryan can't save him. He's brain dead. Ben knows that if he still has a pulse, they can still use his blood. They need to bag him to keep him breathing. He's his family's only hope.
Lily is furious when she realizes Ben was less-than-truthful about Roberto's condition. She says, "What do we tell her now? I'm sorry, but your husband's dead and you and your baby both need his blood to survive?" Ben responds, "That sounds about right." Lily is flabbergasted. This is a side of Ben she's never seen before.
It's a 10 mile trek back to the clinic. When a car comes barreling down the road, Ryan acts as a human stop sign. Tommy is impressed. Back at the clinic, Lily explains the situation to Sydney. She freaks out and tells them to save the baby but let her die. Ben performs the transfusion on the infant and Tommy talks to the mom. He says Roberto said she saved him when they met. Now she can let him save her. Thankfully, she does.
When Otis catches Mina messing with his village-based filing system, he puts her in a "doctor time out." That means he orders her to take a break and go to the festival. After all, interacting with the community is half of what being a doctor here is all about. Otis won't be going even though Zee loves to dance. It seems he had a substance abuse problem back when he was a medic. He's been clean for eight months.
Mina is amazed that the electrocuted man survived the shock that dimmed a village. She thinks the guy's delirious as he babbles about losing the love of his life and being Peter Parker. Electroboy isn't delirious. He's in love. He met his soul mate at the festival last year. They talked for hours about comic books, but he ultimately lost her in the crowd before ever getting her name. Mina says, "Well, that was dumb." She's such a romantic.
Mina realizes there's something else going on with her patient. He has a unique strain of malaria which slows the heart rate. That's how he survived the electroshock. It hit him inbetween heartbeats. She considers him a lucky man. Charlie disagrees. After all, he lost the love of his life.
At the end of the day, Otis and Mina exchange the names of the patient they once misdiagnosed. Every doc has one. They head off to the festival where Otis dances with Zee and Mina finds the love of Peter Parker's life. She points her towards the superhero wing of the clinic. Told ya she was a romantic.
As for Lily, she learns that Ben lost his wife and child a few years back, so the car accident hit close to home. Ryan sees that Ben has passed out after drinking alone. She holds him close. Ben groggily says the name "Abby" and then falls back to sleep. Ryan, on the other hand, is wide awake.