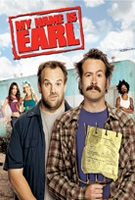 TV Info
---
Episode Premiere
April 30, 2009

Distributor
NBC

Genre
Comedy

Show Period
2005 - 2009

Production Company
Amigos de Garcia Prod., Fox TV


Cast and Crew
---
Main Cast
Additional Cast
Faizon Love
Geraldo Rivera
Michael Waltrip
Synopsis
---
Ernie's Crab Shack is named for three things: the type of food it's famous for; the type of building it is; and its owner, Ernie Belcher, who's been missing for several years. Randy runs into the Crab Shack with big news -- the episode of Inside Probe, hosted by Geraldo Rivera, is finally coming to TV! Geraldo visited Camden eight years ago to shoot "Claws of Death Unknown," detailing his search for Ernie. Now maybe everyone can find out what really happened to Ernie.
As "Inside Probe" opens, Geraldo explains that to fully understand the disappearance of Ernie, you've got to understand Camden. When Earl and Randy drive through the shot, Geraldo flips his laser on them. Earl epitomizes Camden, having grown up full of hopes and dreams, only to realize he was stuck in a dead-end town for the rest of his life. Hope turned to despair turned to a life of crime. With 77 misdemeanors under his belt, Earl steals everything he can get his hands on, including Inside Probe's camera. When not doing crime, Earl hangs out at the Crab Shack, enjoying his favorite food: beer.
Geraldo introduces his viewers to Randy, a classic example of dummy see, dummy do. Randy has fond memories of Ernie, who taught him to tie his shoe, and let him use the claw machine for free. Stay-at-trailer mom Joy is also suspect, the low-rent Bonnie to Earl's half-wit Clyde. Inside Probe re-enacts an incident when Ernie turned the hose on a guy that once tried to dry hump Joy in the parking lot. Geraldo interviews Tim, who remembers Ernie as the guy who used to spray everyone with a hose, and didn't pester him about his rampant cocaine use. Wilfrid, Tim's agent, is the proud holder of an online law degree. He and Tim have a good side business with slip and falls.
Since Darnell is reluctant to talk about his past, Geraldo quickly deduces he's in the witness protection program. He points Geraldo to Ernie's unlikely friend, NASCAR champ Mike Waltrip, who used to hang out with Ernie when passing through town. He remembers Ernie loved the ladies, both Catalina, Camden's first hot immigrant, and Patty, the half-Cherokee daytime hooker. It seems to Geraldo that everyone in town loved Ernie, and thought he would be around forever. That is, until April 9, 2001, when Ernie disappeared.
When it looked like Ernie's case was about to be closed, the cops caught a break. While looking for items for the police auction in Ernie's office, they ran across hundreds of bizarre and angry threatening letters from Randy, and decided to take him in for questioning. Randy explodes while being questioned about his letters. He looks guilty, but the cops can't believe the guy they routinely arrest for getting stuck in the video return box could have killed Ernie. So they bring in Earl for questioning.
Cops Jeff and Stuart double team Earl and Randy, until Randy is tricked into confessing, thinking he's saving Earl's life. With little choice, the brothers hire Wilfrid as their lawyer, who accepts a check for $35 in exchange for an interview with Inside Probe. Wilfrid tells Geraldo that he intends to plead insanity for Earl, and retardity for Randy. Earl pleads with Geraldo for help.
But then Mike Waltrip happens on the scene. It turns out that on the day of Ernie's disappearance, he was accosted by drunken Earl, Randy and Joy, and opted to spend a night of fun with them. Luckily, Ernie's a shutterbug, so he has the pictures to prove it. The Hickey Brothers are cleared of all charges and released to their loved ones, i.e. Joy, who's already making time with Darnell. Now all of Geraldo's questions have been answered except one: Where is Ernie?
Geraldo thought his visit to Camden was over, but the more Inside Probe probed, the more they found out. Next week, the baffling case of Ernie Belcher continues. And if he wasn't murdered, what happened? Was it a longstanding historical grudge, or aliens -- and why is Catalina choking Tim with her legs? Geraldo signs off, leaving Randy frustrated that he was to wait another week to find out what happened to Ernie. Why don't they just air a one-hour special?