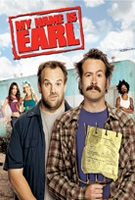 TV Info
---
Episode Premiere
March 05, 2009

Distributor
NBC

Genre
Comedy

Show Period
2005 - 2009

Production Company
Amigos de Garcia Prod., Fox TV


Cast and Crew
---
Director
Marc Buckland
Screenwriter
Hilary Winston
Main Cast
Additional Cast
Synopsis
---
Since Joy and Darnell are out of witness protection, Earl and Randy are hard at work scrubbing down the trailer in preparation for their return. Darnell is thrilled to use his real name, Harry Monroe, and gets busy returning several years of old emails and joining social networking site Buddybook. Earl is thrilled to learn that Dodge will be attending astronaut Chaz Dalton's Space Academy, which he and Randy went to when they were kids. Chaz is Earl's one true hero, and he's on his list.
The week Earl spent at Chaz Dalton's Space Academy was the greatest week of his life and changed it forever. Young Earl wants to do more than just learn; he wants to actually be Chaz, so he steals his space suit. Young Earl stays up all night wearing the space suit and jumping on the trampoline so he can experience weightlessness. In the morning, Young Earl decides to clean the suit before returning it, but it shrinks beyond all recognition. Demoralized, Earl never returns to the Space Academy.
Offering a box of chocolate by way of apology, Earl returns to the Space Academy to explain all to Chaz, trying hard not to cry. When Chaz forgives Earl since he told the truth, Earl leaves, determined to find Chaz another space suit to make up for the past. Meanwhile, Joy is jealous to learn that Darnell has 320 friends on Buddybook, including old fling, Margaret Thatcher. According to Joy you only need two friends: a poor one to make you feel rich, and a fat one to make you feel skinny.
Earl and Randy swing by NASA to see if they can buy Chaz a new space suit, only to find out that Chaz isn't the real Chaz! Earl finds the real Chaz throwing out vodka bottles and picking up dog poop on his lawn. When the real Chaz finds out that someone has been making money off his name, he agrees to go to Camden with Earl for a confrontation. Meanwhile, Darnell helps Joy create her Buddybook profile and send out a general friend request.
While Earl is on his way to making a new friend in real Chaz, Joy has received no answers on her friend request. Darnell tells her that Buddybook is broken, best to forget the whole thing. Determined to get answers, Joy addresses the patrons of the Crab Shack -- why didn't they answer her friend request? Finally, Tim admits it's because Joy is just plain mean.
Earl is also determined to find answers. It turns out that fake Chaz's real name is Wayne. He used to work at NASA, but had female-sized lungs, and so was relegated to cleaning space ships. Since the real Chaz hated public appearances, he started to send Wayne in his place, because no one knows what real astronauts look like. Caught red-handed, Wayne sadly hands over the keys to the Space Academy and leaves.
Chaz tries to take over the Space Academy with Earl and Randy's help, but he's too drunk, and falls over in front of the kids. It turns out that Chaz isn't who he appears to be, either. The only reason he got to be an astronaut is that his father, a senator, gave funding to NASA, and the other astronauts hated him for it. Once in space, Chaz realized that he has claustrophobia, is afraid of heights and is prone to motion sickness. His first mission was cut short when he threatened suicide rather than go into space.
Chaz doesn't want to break the kids' hearts, but he realizes he's a man who can't live up to his own myth. Furious, Earl locks Chaz in a closet, refusing to let the kids find out how bad it hurts when you lose your hero. Earl and Randy try to run the Space Academy on their own. Eventually the kids catch on, realizing that Earl and Randy have never been to space. Luckily, Wayne shows up, to step back into Chaz's shoes.
While locked in the closet, Chaz finds hundreds of fan letters written by star-struck kids, and realizes that sometimes a myth is more important than the man -- especially when it inspires so many kids. Since Wayne is good at working with kids, and Chaz still has access to all the NASA stuff, the two Chazzes decide to team up. When Chaz obtains another space suit, Earl is finally able to cross him off his list.
Darnell also realizes that pretending to be someone else can help. He stays up late making 263 fake profiles on Buddybook, all of whom want to be friends with Joy. Sometimes a fake buddy works just as well as the real thing. Not only does Joy get what she wants, but Earl gets a treat, too. With unrestricted security clearance, Chaz is able to get Earl a ride on the shuttle simulator, a 25-year-old dream come true.