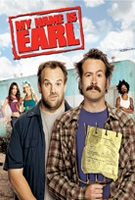 TV Info
---
Episode Premiere
February 19, 2009

Distributor
NBC

Genre
Comedy

Show Period
2005 - 2009

Production Company
Amigos de Garcia Prod., Fox TV


Cast and Crew
---
Director
Eyal Gordin
Screenwriter
Matthew W. Thompson
Main Cast
Additional Cast
Synopsis
---
Randy never got to see Joy and Darnell before they went into witness protection, and he's missing them so bad, that he made his own Darnell scarecrow. Earl has tried to keep up a brave front for Randy's sake, but he's missing them, too. One day, there's a knock on the door, just as Earl is gazing longingly at Joy and Darnell's wedding photo.
A guy named Thomas is looking for Darnell. Earl tries to protect the Turners' whereabouts, but when Thomas spies the wedding photo, he handcuffs Earl to a briefcase containing a bomb. Meanwhile, things aren't going so great for Darnell. Money is tight, and Joy has been spending it, trying to insure the family is fitting into their new neighborhood. That means no more family dinners -- Darnell is forced to eat his microwaved TV dinner, forlorn and alone.
When Randy shows up at the trailer with Scarecrow Darnell, the jig is up. Thomas chains the brothers to a post with the bomb, and leaves them to sort it out. Randy has a plan: they can open the briefcase, say "I hope this works," and cut the blue wire. That's how it always goes on TV. Sadly, the case is full of blue wires, so Earl and Randy prepare to meet their maker.
Thomas returns to admit that the bomb isn't real, confessing that he would hate to kill his son's friends. After all, Thomas' job as a covert secret agent made him a terrible father, and he wants to make amends. Thomas gives Earl and Randy a photo of himself with young Darnell, and persuades them to take it to Darnell.
Darnell admits that he has a long, complicated history with his father; that's why he always told everyone he was dead. When Thomas realized that baby Darnell was exceptional, he shipped him off to spy school, and Darnell became an agent on his father's team. When Thomas asked Darnell to kill a nine-year-old boy king, he went too far, so Darnell testified before a subcommittee and entered witness protection.
Earl knows how dads can suck, but he advises Darnell to get past it. After all, Thomas sent a belated birthday card. Spying a tracking device attached to the card, Darnell hits the deck, as Thomas appears to knock out Joy, Earl and Randy with a tranquilizer gun. After catching the darts meant for him, Darnell does battle with his father.
Thomas claims that if he can find Darnell, so can everyone at the agency, and they still want Darnell dead. He's come with an offer: if Darnell will do one last mission, the agency will wipe the slate clean, no strings. Darnell decides he's willing to risk his current life if he can get back his old one.
Earl wakes up in a helicopter with Darnell and Thomas at the helm. Darnell explains they're going on a secret mission, and Thomas insisted on bringing Earl along because he has trust issues. Earl will survive unless something happens to Darnell. Preferring to focus on the positive, Darnell gives Earl a shot to knock him out, so he won't see anything he's not supposed to.
Joy and Randy wake up on the living room floor when neighbor Pam drops off the boys. They sit on the couch with scarecrows of Darnell and Earl, trying not to worry too much. Meanwhile, between tranquilizer shots, Earl catches glimpses of the secret mission. When he asks to go to the bathroom, Darnell tells him not to worry, he's wearing a diaper.
Earl wakes up on the helicopter after the mission is accomplished. The engine starts to fail, but there are only two parachutes, so Darnell gives one to Earl and pushes him out the door. Thomas orders Darnell to take the last parachute, but Darnell insists he's not leaving without a hug. Once he gets a hold of Thomas, Darnell leaps from the airplane. Later, everyone is united back at the trailer for a big family dinner.