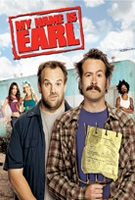 TV Info
---
Episode Premiere
February 12, 2009

Distributor
NBC

Genre
Comedy

Show Period
2005 - 2009

Production Company
Amigos de Garcia Prod., Fox TV


Cast and Crew
---
Director
Allison Liddi-Brown
Screenwriter
Jessica Goldstein, Chrissy Pietrosh
Main Cast
Additional Cast
Morgan Fairchild
Joan Van Ark
Synopsis
---
Since Joy, Darnell and the kids are in the Witness Protection Program, Earl and Randy move into the trailer, where they can enjoy the luxury of their own beds. Only trouble is, Randy hates sleeping alone. Randy hears a scary noise and climbs into Earl's bed. When they realize that the scratchy noise might be the Shower Cap Killer, the guys investigate, only to find Mr. Turtle, who has returned home at last!
Earl feels responsible for Mr. Turtle, so he decides to take him wherever he goes. Kenny has picked up Darnell's shifts at the Crab Shack, so Catalina and the guys visit to check out his new "Sex in the City" martini menu. When they finally realize that Mr. Turtle is hungry, Earl finds a note with Darnell's telephone number in the turtle food tin.
Charming a bunch of suits in an office, Darnell excuses himself when his hair phone rings. He gives Earl his new address so he can ship Mr. Turtle, and advises him to destroy the phone number for safety's sake. Catalina points out that you can't just mail a turtle like you can a human -- why doesn't Earl just drive Mr. Turtle to his new home?
Randy's too emotional to go with Earl, so he stays behind, but is soon depressed, missing Earl. One of Kenny's new bar patrons, Jim, notices Randy's dejection and invites him to a movie to cheer him up. Earl's Ranchero barely makes it to Joy and Darnell's fancy new home. Looking tan and classy for her new identity "Goldie," Joy pulls Earl into the house. She doesn't care that Earl may be putting her life in jeopardy; she has bigger fish to fry.
Joy is more concerned that Earl's presence may be affecting her social life. Joy's having troubled being accepted by the wealthy neighborhood women -- it's almost like they can smell Camden on her skin. Joy has always had a problem with snobs who looked down on her, even in elementary school. The ladies haven't decided if Joy's in or out of their clique, but if they see Earl, she's definitely out.
Joy kicks Earl out. He doesn't mind leaving, because he doesn't want to ruin her chance of fitting in. When the Ranchero belches smoke on a tiny neighborhood dog, blinding it, Earl's plan is delayed. Meanwhile, Jim has rented "To Wong Foo" and is cooking Randy dinner. Still mourning Earl's absence, Randy admits that the hardest part is sleeping alone. Jim offers to help out... if Randy will let him.
Earl takes the dog to the vet, who finds a tracking chip. When Earl returns the dog to Joy's wealthy neighbor Carol, he explains all about karma and his list. Turns out that Carol and her friends can't sleep -- something is making them restless. They've tried all the latest spiritual fads, but nothing seems to work. Curious about karma, Carol pulls Earl inside to meet her friends, shocking Joy.
Realizing Earl may be her ticket to the inner circle, Joy makes like he's her spiritual advisor and invites the ladies to her home for a "talky party." Earl and Joy prepare a fancy presentation about karma, but Earl's still nervous. He starts out shaky, but it's not long before he has the ladies eating out of his hand. Each woman makes a list of things to make up for. Number one on each list -- mistreating their maids. Earl and Joy are amazed that the rich people finally like them -- who'd a thunk it?
Earl's head starts spinning, just as one of the women offers to get him on Oprah. The first question Oprah will ask: how long does it take karma to work? Each of the ladies has something they want karma to give them -- a pool, a private jet, better boobs. Earl panics, claiming it only takes karma a week to pay off, then spends the night going crazy, trying to figure out how to make good on karma's promise.
In the morning, Joy can see that Earl has gone off the deep end. Earl and Joy panic when there's a knock at the door. It's the ladies, who have decided they don't need the stuff they asked for. Karma has already given them something better -- peace of mind. After a good night's sleep, they can't wait to do nice things, including being less judgmental of Joy. With Joy's social life restored, Earl can finally get some sleep.
After three nights of just sleeping with Randy, Jim wants to do more. Randy is just suggesting that they get drunk and wrestle when Earl's Ranchero pulls up. Randy is elated, and Jim sneaks out through a window, making Randy promise that he won't let Earl hurt him again.