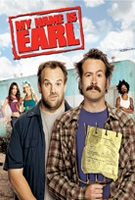 TV Info
---
Episode Premiere
February 05, 2009

Distributor
NBC

Genre
Comedy

Show Period
2005 - 2009

Production Company
Amigos de Garcia Prod., Fox TV


Cast and Crew
---
Director
Paul Burke Pedreira
Screenwriter
Bobby Bowman
Main Cast
Additional Cast
Synopsis
---
Since Joy, Darnell and the boys are in the witness protection program, Earl and Randy move back into the trailer. Randy receives a scratcher lottery ticket in the mail. Amazed to win $250, Randy runs outside and gets hit by a kid on a bike, which he mistakes for karma. Randy is contemplating starting a list just like Earl's as his lottery ticket blows away.
The FBI agents come down hard on Joy and Darnell, who need new identities on account of their last little stunt. Joy is determined that her new name be Goldie Crystal, and that she live somewhere with skyscrapers and gay men who are your best friends. The agents relocate the Turners to a noisy railroad flat in New York City -- a real dump. Joy is devastated, but Darnell tries to make the best of it.
Randy watches Carson Daly on TV, in hopes that Carson will tell him what karma wants him to do. When Randy notices that Andrew Dice Clay is a guest on the show, he realizes karma's plan. Randy pulls Earl's missing Diceman belt buckle out of the toilet tank, and confesses the story behind it.
When brothers Zeke and Arlo Cavanaugh moved in next door, Earl liked Zeke right from the start. Zeke and Earl enjoyed doing crazy things together to get free t-shirts, like drinking a glass of fryer fat at the Crab Shack. Left behind, Randy got jealous, so he came up with a plan to put a stop to the friendship. One night, Randy stole Earl's Diceman belt buckle, and pinned the theft on Zeke. In retaliation, Earl lit all of Zeke's free t-shirts on fire, thus ending their friendship.
Since Earl and Randy both did Zeke wrong, they both write Zeke on their lists. Randy decides that he needs to get Earl and Zeke hanging out like they used to, which takes little more than suggestion. Randy is left to hang out with Arlo, who's not too friendly and smells like onions. Back in New York, Joy loses patience, and yells her real identity out the window. The agents respond in a flash, giving the Turners new identities as Swedish lumberjacks. Darnell warns Joy that things could be worse, but she outs them again.
When Zeke and Earl take off to climb the Camden Landfill to earn another free t-shirt, Randy prepares to cross Zeke off his list -- until he spies Arlo burning Zeke's free t-shirts. Lonely, Arlo plans to blame the fire on Earl to get his brother back. Randy realizes that the same thing always happens to Earl: Earl handles one problem, only to learn that karma has something else in mind. The neediest, most annoying guy is always the real list item.
Over beers, Arlo admits that Zeke never spent much time with him; he wishes they were more like Randy and Earl. Randy explains that you have to work at being a good little brother. You have to laugh at your big brother's bad jokes, and let him protect you. Meanwhile, the Turners find themselves in an igloo, with new identities as Eskimos. When Joy realizes the two agents are having an affair, she offers blackmail, rather than calling in supervisors and spouses. Finally, Goldie Crystal finds her new home!
When Earl and Zeke return to the trailer park, Randy takes credit for burning Zeke's shirts, and lays into Arlo, faking a fight. Earl sticks up for Randy; if he had to choose between his list and his brother, Randy would win every time. Zeke decides to defend his brother, and takes off with Arlo. Earl isn't sad to see Zeke go, since he's the one that pushed them together.
It turns out that when Earl was hanging out with Zeke, Zeke complained that his relationship with Arlo wasn't as close as the Hickey brothers. Earl put Zeke through big brother school: you have to have plenty of jokes, and always protect your little brother when he gets into tough situations. When Randy starts fighting with Arlo, Earl tells Zeke that now is his chance to win over his little brother.
Randy apologizes to Earl for making him lose his friend a second time. Earl thinks that maybe Zeke and Arlo are the ones that karma meant to be friends, so they can cross them off the list. The wind blows Randy's lottery ticket to land at his feet, and Earl tells Randy a joke that's actually funny.