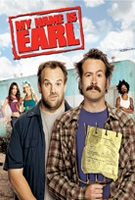 TV Info
---
Episode Premiere
January 22, 2009

Distributor
NBC

Genre
Comedy

Show Period
2005 - 2009

Production Company
Amigos de Garcia Prod., Fox TV


Cast and Crew
---
Director
Eyal Gordin
Screenwriter
Gregory Thomas Garcia
Main Cast
Additional Cast
Synopsis
---
Earl drowns his sorrows at the Crab Shack, feeling responsible for destroying Joy's lifelong dream of being famous and blowing Darnell's cover in the process. For her appearance on "Estrada or Nada," Joy is named Camden's loser of the week, only she's not around to find out about it, since the Turner family has been relegated to a witness relocation facility.
Joy becomes increasingly edgy, and begins wondering why Darnell is in the witness protection program in the first place. Only Mr. Turtle knows the answer, and he's not talking, because he's still lost. Joy is shocked to learn that her new name is Phyllis Rosenstein from Columbus, Ohio. She and her husband Marty love to bowl and design clothes for their pet toy collie.
Earl and Randy decide to comb the trailer park for clues to Joy's whereabouts. Willie the mailman tells them that Joy's mail is being forwarded to her new address, so Earl and Randy decide to mail themselves to Joy in a wooden crate. Joy confronts her witness protection agent, claiming she wants her new name to be Goldilocks Kristal. The agent won't budge. Darnell tries to reassure Joy -- they're still the same, they just have different names.
Darnell and the kids seem to like their new yamacas, but Joy is devastated with her dowdy clothes, black wig and order to gain 30 pounds. When she learns that Darnell is to undergo an operation to take the hair off his head and graft it onto his face, she runs off. The agent demands that Darnell get Joy under control. Darnell wasn't supposed to marry Joy or stay in Camden -- he's wasted his life in a trailer park.
Darnell claims that staying in Camden was the best decision he ever made. When Joy hears this, she comes out of hiding and hugs Darnell, promising to hold up her end of the deal no matter how much it hurts. Meanwhile, the fun of crate travel has worn off. Earl has found a cricket and offers to share it with hungry Randy. Randy can't stand the taste, and starts licking their battery-operated light and shocking himself.
Earl has a realization -- eating crickets, the shocking -- these are all things Joy did on her "Fear Factor" audition tape. Karma is punishing them for killing Joy's dream. When Randy starts throwing up, Earl busts out of the crate, only to find that they're in a dumpster along with the rest of the forwarded mail. Earl is shocked to find a letter to Joy from "Estrada or Nada."
Joy puts her nose to the grindstone to become the best Phyllis Rosenstein that ever lived. Earl opens the letter, which is offering Joy another chance to appear on "Estrada or Nada." All he has to do is mail in her application and get a lot of people to text message a vote for Joy. Earl figures if he can get Joy back on the show, she'll come out of hiding.
Earl buys a box of hot cell phones from Jasper and hands them out to Crab Shack patrons. Everyone cheers when Erik Estrada announces that Joy has another chance to appear on the show. Watching from the witness relocation facility, Darnell is devastated, but Joy claims she doesn't care; she'd rather have her family than fame. When the agent appears, Darnell sticks a syringe in his neck, and the Turner family heads for Camden.
As the taping of "Estrada or Nada" is about to begin, Earl and Randy look nervously for Joy, who is nowhere to be seen. Just as Brian Dinkleman is announcing that Joy is a no-show, she appears in all her glory. Joy does her crab walk routine, and Erik matches her feat, playing a kazoo while being fired upon by a circus cannon. The judges call for a tie breaker.
Erik and Joy spew fire and play music on wine glasses equally well. Joy comes up with a new tie-breaker, a combination of all her Phyllis Rosenstein skills: dressing a dog while speaking Hebrew and answering trivia on the state of Ohio. Erik goes toe-to-toe with Joy, but ultimately fails on the trivia question. He congratulates Joy and tells her to get ready to be famous!
After the show, Joy thanks Earl. Darnell warns that thousands of agents are about to swarm them, which might be very unpleasant, so everyone says their goodbyes. Surprisingly, after all Earl has been through with Joy over the years, the one thing he can't say to her is goodbye.