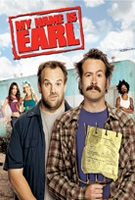 TV Info
---
Episode Premiere
January 15, 2009

Distributor
NBC

Genre
Comedy

Show Period
2005 - 2009

Production Company
Amigos de Garcia Prod., Fox TV


Cast and Crew
---
Director
Eyal Gordin
Screenwriter
Ralph Greene
Main Cast
Additional Cast
Synopsis
---
Earl and Randy are overjoyed to find a new reality game show featuring their all-time favorite actor, Erik Estrada. In "Estrada or Nada," average citizens with special talents compete against Erik to see who the real Estrada is. The winner is decided by a panel of expert judges, and there's going to be an audition in Camden next week.
Earl realizes that "Estrada or Nada" is his chance to take #31 off his list, ruined Joy's chance of being on TV. Years ago, Earl and Randy stole a "pull" gun and shot Joy's audition tape for "Fear Factor." Joy claims that she's already given up on her lifelong dream of being famous. Even though nasty Grammy told Joy she'd never be famous, Joy tried many times, and always failed. "Fear Factor" was merely the last straw.
Earl feels terrible for killing Joy's childhood dream and can't sleep. Joy can't sleep either. The next day she races to Earl's motel room, determined to beat the CHiPs out of Erik. Randy decides that his special talent will be opera, and sings an aria for Earl and Joy. Impressed with Randy's talent, Joy rushes off to practice.
The citizens of Camden form a long line for the auditions. Catalina and Randy are the last two contestants allowed in. Earl begs Randy to give his place to Joy, promising that the next list item will be Randy's, no waitsies. Randy makes up for the time Earl used his head as a tetherball as the auditions get underway.
Igball reads Shakespeare and Wilford and his dummy tell knock knock jokes, but the judges buzz everyone off the stage. Finally, it's Joy's turn. Performing as the Crustacean Sensation, Joy puts her legs behind her head and crabwalks, while singing "These Claws are Made for Walking."
When the judges buzz her off the stage, Joy attacks the show's host, Brian Dunkleman, beating the crap out of him. Finally, Darnell is forced to pull his wife off Brian. Later, everyone gathers at the Crab Shack to watch the audition show, which features scenes of Joy beating up Brian. Drunk, Joy pulls off her shoe and hurls it at the TV, breaking it. When a phone rings, Darnell reluctantly pulls it out of his hair.
When Darnell's hair phone self destructs, Joy demands to know what's going on. Twenty million people just saw Darnell's face on TV, so his witness protection is blown. Earl is concerned that he can't cross Joy off his list. Darnell explains that Earl has actually put everyone in danger.
Back at the trailer, Darnell packs in a hurry, knowing that the FBI is about to show up to relocate him and his family. Everyone is in danger of being killed by the guys who want to kill Darnell, and the FBI is no party, either. Still drunk, Joy lays into Earl, claiming it's all his fault. When Darnell pleads with her to hurry, Joy insists that the government might force her to move, but she's calling the shots. That's when the lights go out.
It's daylight when Earl and Randy wake up. They start screaming when they realize they both have syringes stuck in their necks and the entire trailer is wrapped in plastic. With no sign of Darnell, Joy and the kids, Earl resolves to find them and set the situation right. Curious to see what the drop of liquid left in his syringe tastes like, Randy squirts it in his mouth and passes out.