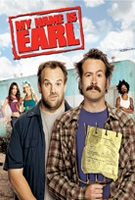 TV Info
---
Episode Premiere
January 09, 2009

Distributor
NBC

Genre
Comedy

Show Period
2005 - 2009

Production Company
Amigos de Garcia Prod., Fox TV


Cast and Crew
---
Director
Mike Mariano
Screenwriter
Vali Chandrasekaran
Main Cast
Additional Cast
Noah Crawford
Brie Gabrielle
Synopsis
---
One great thing about the Crab Shack -- people come by whenever they have something exciting to share. A waitress with news that she's not pregnant gets Earl thinking about his former hot babysitter and first love, Rachel. Sadly, Earl's chance to make an impression on Rachel is dashed when her boyfriend Daniel shows up, so Earl decides to make him pay...
Joy inadvertently leaves Mr. Turtle on the hood of the Brat and drives off. Earl tracks down Rachel, surprised to find that she's still happily married to Daniel. Rachel and Daniel couldn't be happier, but their son Ronnie is beyond spoiled and still living at home, making his parents' life a living hell.
Joy finds a couple of turtles in the hotel pool, and asks Catalina which one looks more like Mr. Turtle. Catalina is shocked to learn of Joy's deception, but Joy contends she has no idea what kind of lies and deception are necessary to keep a marriage afloat. Not wanting Darnell to be sad, Catalina picks the turtle that acts like Richard Dreyfuss, and Joy tosses her the loser.
Earl contends that Ronnie is a grown man and should be living on his own. Since Earl was responsible for Rachel's pregnancy, karma demands that he be responsible for Ronnie becoming a man. Rachel is scared that the world is a dangerous place, but Earl assures her that all Ronnie needs is a little tough love.
Earl pays the rent on a neighboring motel room for three days, after which Ronnie will need to find a job. When Earl looks through the bullet hole to see if his no-nonsense approach has worked, Ronnie is watching TV, so Earl takes it away. When Ronnie spends all his time drumming on the furniture, Earl takes away the furniture. Hating Earl, Ronnie turns to his zipper for entertainment, so Earl takes his clothes.
Darnell thinks something's wrong with Mr. Turtle, who's not his usual active self, so Joy tries to give the new turtle some incentive. Meanwhile, motel management puts Ronnie out in the parking lot, where he befriends a homeless woman who gives him a robe and cooks bird eggs for him. Disgusted, Earl confronts Ronnie, calling him pathetic for always living off someone else. Ronnie is a loser.
Randy realizes that if Earl thinks Ronnie is a loser, Earl must think Randy is a loser, too. Randy resolves to take care of himself and Ronnie resolves to live off Randy, prompting Randy to point out that now he's got his own Randy. Earl decides not to get emotional, but when Catalina laments the fate of Mr. Turtle, Earl realizes that it's a dangerous world out there for a helpless guy like Randy.
Earl pounds on Rachel and Daniel's door, confessing that he screwed up. The trio spends all night searching Camden for their lost boys. Meanwhile, Joy returns home to find Darnell burying Mr. Turtle. Joy tells Darnell the truth, filling him with hope. After all, if any reptile can make it home, it's Mr. Turtle.
Earl has just given up hope when Randy and Ronnie drive up in a golf cart, dressed in suits. Randy tells the saga: after leaving home, Randy and Ronnie found a wallet, and turned it in to its owner, who let the boys pick out anything they wanted from his thrift shop. Once they were dressed in suits, people started treating the guys like adults, so they followed some other adults in suits to a flange convention.
Randy and Ronnie try to leave the convention, admitting that it's boring. The other conventioneers recognize the wisdom in this statement, and decide to change things around. When they announce a dance contest, Randy and Ronnie rock the house and make off with the grand prize -- the golf cart. Randy admits that he was able to accomplish all this by doing exactly what Earl would have done in the same situation.
Earl learns that all you can do is teach kids the best you can, and trust that they'll find their way. Having experienced respect, Ronnie decides to go back to school, and move out of his parents' house... into their garage. Randy is happy to learn that he can take care of himself, but he doesn't really want to. Meanwhile, Mr. Turtle lopes towards home.