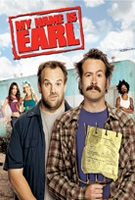 TV Info
---
Episode Premiere
December 08, 2008

Distributor
NBC

Genre
Comedy

Show Period
2005 - 2009

Production Company
Amigos de Garcia Prod., Fox TV


Cast and Crew
---
Director
Michael Fresco
Screenwriter
Mike Mariano
Main Cast
Additional Cast
Ewen Bremner
Trey Carlisle
Synopsis
---
Earl brings the Bookmobile to the trailer park. Darnell thinks something's wrong with the books, but Earl explains that Camden couldn't afford the classics so they bought knock-offs, and settles down to read "Trazan, the Ape-Man" to a group of kids and Randy. Like all good adventures, this one begins back before Earl had his list.
Earl and Randy were sentenced to Camden's Humiliate to Rehabilitate program when they first met Raynard, an unusual guy who made community service bearable. Instead of picking up garbage, Raynard would rather burn it on the spot. Why should the guys at the dump have all the fun? Raynard became such a good friend, that he invited Earl and Randy to stay with him when they had nowhere else to go.
Raynard's bathtub is in his living room, and his outdoor plants grow indoors. Although people think he's crazy, Raynard just looks at things differently. Earl thinks that Raynard's globe is upside down, but Raynard explains that there's no up and down in space. Earl has to agree; it all makes him think about things differently.
Raynard is a little nervous around the ladies. Earl claims that they're all in a band that's opening for U2. When a bunch of girls insist on seeing their tour bus, Earl steals the most bus-like thing he can find -- the Bookmobile. Loading Randy, Raynard and the girls inside, Earl drives to the woods where they all spend the night. In the morning, everyone walks away, so as not to get caught driving a stolen Bookmobile.
The Bookmobile stays in the woods until Earl gets to #219 on his list, stole a Bookmobile. When Earl and Randy return to the woods, a hairy Raynard jumps out and screams. He's turned into something like Trazan -- half man, half beast. Earl realizes it's all his fault. The last time he saw Raynard was right after he got married to Joy. Raynard needed a place to stay, and Earl didn't help.
Broke and homeless, Raynard wanderd the streets until he stumbled across the remnants of the library outreach program -- a Book-mo-bike, which he rode into the forest. He's been living in the Bookmobile ever since. Now Raynard barely speaks, has a hot wife Charlene (a raccoon) and survives on little red berries.
Earl recognizes the berries as crazy berries, from a time he went camping with Joy to avoid bill collectors and she tripped out and hit him with a log. Randy hopes they can re-train Raynard to be a pet, but Earl tries to lure him back to society with the promise of pizza. Surefooted as a mountain goat, Raynard runs off, and Earl realizes he'll have to use his brains to set a proper trap.
Raynard comes running when he spies Catalina in front of the Bookmobile. Earl ties him in the back of the Ranchero and drives back to the motel for a forced colonic, which Catalina says will get bad stuff out of his body in a hurry. After Raynard is cleaned up, Earl tries to get him a series of jobs, until Raynard is ultimately arrested during a mishap with Joy.
Figuring he'll post Raynard's bail and call it even, Earl finds him drugged up in the psych ward by a guy who might be Santa. Earl is sad to see Raynard in a straightjacket, but he has to admit, Raynard doesn't seem to belong in the normal world. Luckily, Raynard has been hiding his pills in his mouth. He asks Earl to break him out of the psych ward so he can return to the woods where he was once happy.
Earl facilitates the break-out, and then takes Raynard back to the woods, giving him a tent so the Bookmobile can go back into circulation. Raynard thanks Earl for his freedom, and Earl realizes that he has come to admire what he once feared. That's why he's all about the Bookmobile, helping kids to look at the world in a new way with books.