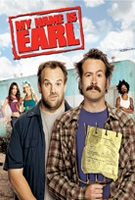 TV Info
---
Episode Premiere
November 06, 2008

Distributor
NBC

Genre
Comedy

Show Period
2005 - 2009

Production Company
Amigos de Garcia Prod., Fox TV


Cast and Crew
---
Director
John Putch
Screenwriter
Michael Pennie
Main Cast
Additional Cast
Synopsis
---
Living at the motel, Earl's had his fill of annoying neighbors, most of whom won't shut up. Luckily, Catalina always finds a way to move the people that drive Earl crazy to the east wing. Randy's mad that Earl forced yakky Cappy out, but Earl thinks they're better off... until he meets his creepy new neighbor, Lloyd.
When strange sounds come through the walls at 3 a.m., Earl knocks on Lloyd's door. Even though he's wearing a helmet and carrying a blowtorch, Lloyd didn't hear anything, and claims he was asleep. Back in his room, Earl persuades Randy to look through the bullet hole to see what Lloyd's building. Whatever it is, it doesn't sound good the way Randy describes it.
Catalina refuses to move Lloyd, who said something bad would happen to her pretty little face if she ever stepped foot in his room. Since she can't clean Lloyd's room and he thinks she's pretty, Catalina hopes he never checks out. Earl sends Randy off to pack their things, and joins Joy at the pool, where she's trying to catch a fish for Dodge's science fair.
Normally, Joy doesn't believe in science, but this fair promises a $500 cash prize. Joy is bewitched to behold Jane Seymour's Open Hearts necklace from Kay Jeweler's on TV. In Joy's dreams, Jane Seymour appears in the medicine cabinet mirror to offer Joy the necklace. But when Joy reaches out, she can't get it. Jane Seymour apologizes, telling Joy that she'll have to win the science fair to get the necklace.
Joy bolts up in the middle of the night with a purpose. She tells Darnell that Jane Seymour came to her in a dream and told her to win the science fair by proving evolution is a bunch of bullcrap. She's going to get a fish, who'll have to grow legs in order to get the food she'll put to the side of his tank.
Joy recognizes Lloyd from the days when she and Earl were buying junkers, giving them "hillbilly" tune-ups and re-selling them to chumps. Back in those days, Lloyd was innocent and carefree, and he'd never bought a car before. A pregnant Joy assures him that he can have a money back guarantee. Lloyd buys the car, and sets out on his dream cross country trip. Sadly, the car can't make it across Camden County.
Earl has a lot of experience telling psychos that he's screwed them over, so he confronts Lloyd, admitting he sold him a lemon. Lloyd thanks Earl for showing him the way of the world, that people are scum. When he realized that Earl sold him a lemon, he turned into scum and sold it to an unsuspecting little old lady. It's all okay, though; now that he has all of his "materials," he won't have to worry about people offending him anymore.
When Lloyd huffs a box of explosives into his room, Earl fears that he's created a terrorist -- Lloyd's building a bomb! Earl offers to disprove Lloyd's theory that the world is just one giant chain of scum by finding one honest person in the chain. If Earl succeeds, Lloyd must agree to give his fellow man another chance. Meanwhile, Joy's faith in God is challenged when her fish grows legs. Darnell laughs, explaining that Joy has only proved that tadpoles grow into frogs. Joy's necklace plan is dashed.
Earl takes Lloyd to visit the little old lady who bought Lloyd's lemon. Sadly, she just painted a stripe on the car and sold it to her sister. When it looks like Lloyd's theory might be right, Earl enlists Darnell to lie, saying that he melted the lemon car down to make a jungle gym for orphans. Everything's going great until the lemon car drives down the street, and Lloyd realizes that Earl lied.
Enraged, Lloyd takes off in Earl's car. Earl runs to the motel to prevent Lloyd from setting off his bomb, amazed to learn that Lloyd has really been building a rocket, to launch him off this cruel, cold earth. Lloyd realizes that Earl thought he was running towards a bomb, a completely unselfish act. Lloyd regains his faith in humanity, and Earl is able to cross another item off his list. In the bargain, Earl realizes that just like Lloyd, he was seeing only the bad in people around him, instead of the good.
Earl resolves to be like Randy and see the good in people. Lloyd takes off on his cross country trip, handing off his rocket to Joy, who uses it to win Dodge's science fair. She's furious when she learns that the prize is a savings bond in Dodge's name -- how is she going to get her necklace now? Even though Darnell knew, he wanted to spare Dodge's feelings. Luckily he thought about Joy's feelings too, and bought her the Jane Seymour Open Hearts necklace from Kay Jewelers.