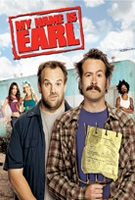 TV Info
---
Episode Premiere
October 16, 2008

Distributor
NBC

Genre
Comedy

Show Period
2005 - 2009

Production Company
Amigos de Garcia Prod., Fox TV


Cast and Crew
---
Director
Eyal Gordin
Screenwriter
Hilary Winston
Main Cast
Additional Cast
Synopsis
---
Darnell thinks Earl, Randy and Catalina should sell cake because it would make the Crab Shack classy. Meanwhile, Joy's kids are working on their art homework. They are tasked with drawing something beautiful, so Dodge draws a lady. Joy asks if it's her, but Dodge tells her it's Catalina. A mob yells at a male cheerleader on TV, reminding Earl of the time back in school when he bullied Kenny for wanting to be a cheerleader.
Earl sets it up so that Kenny can go to Kimmi Himler's Cheerleader's Camp. However, he discovers it wasn't Kenny who wanted to be a cheerleader, it was Randy. Earl recalls all the signs he missed - Randy's strange nighttime cockroach dance, the way he orders a "number one" on the menu, and his random back flips - they all make sense now.
Kenny reminds Earl that Randy tends to copy him, so if Earl says he wants to be a cheerleader, Randy will want to be one as well. Sure enough, Randy decides that cheerleading camp sounds good. Randy and Earl arrive at Kimmi Himler's Cheerleading Camp and are awestruck. Back home, Joy poses glamour-style for Dodge in her trailer, but he says she looks old.
Randy tries to impress the girls at camp with his cheer, "My name is Randy and I like candy and corn dogs!" Kimmi introduces herself to Earl and Randy. They are both startled by her face, which was disfigured by a real-life badger mascot in high school. Earl and Randy line up with their cheer squad, who are a bunch of Camden outcasts. Meanwhile, Joy still can't make Dodge say she's pretty. She complains, saying he only likes Catalina because she is the same color as pancakes.
While helping the squad get settled in their room, Earl learns that Camden has never won the end-of-camp cheerleading competition. He tells Randy they should just leave because he doesn't want to be a loser. The girls start to argue, causing Randy's temper to snap. He says they shouldn't care what other people think as he's there to be "the most best cheerleader" he can be. The next day the squad is determined and ready to compete against the rival cheerleading squads.
By the end of the day, the Camden team thinks they might have a chance to win the trophy. Kimmi's daughter, on a rival team, complains to her mom that Randy has the spirit of ten cheerleaders. Kimmi vows to take care of it and throws Earl and Randy out of the camp. Earl tries to bribe Kimmi with cash, but she won't budge. He recognizes the signs of a lonely woman in Kimmi, and decides to "take one for the team."
Darnell catches Joy getting dressed in sexy lingerie before she reads Dodge his bedtime story. She admits she is worried that soon her baby boy won't need her at all. Darnell tips a floor fan onto Dodge's head and he runs crying to Joy. She realizes that for the moment, her son still needs her. Back at camp, Earl is nervous before the final show. He feels like hurling. Randy tells him to puke outside because points will be deducted if the judges think he's doing it to lose weight.
Outside the cheerleader camp, Joy and Darnell greet Earl. They'd gotten a postcard from Randy, so they gathered everyone they knew into a bus to go watch Earl and Randy be cheerleaders. Earl runs inside to tell Randy he can't do it - it's not his dream. But Randy won't perform unless Earl is out there with him. Earl eventually convinces Randy to compete without him, and Randy heads out onto the court with the other cheerleaders.
The team is assembled behind him and Randy looks nervous. Joy thanks the Lord for the gift the audience is about to receive. Randy barely holds his composure as the insults from the crowd get worse. Earl decides to be Randy's cheerleader for once, and runs onto the court as the performance begins. Their routine is awesome. The crowd cheers and Darnell films it all. Kimmi tells Earl that the vet who drains her bad eye is in Camden and she's going to look Earl up.