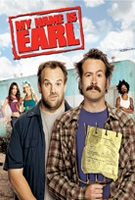 TV Info
---
Episode Premiere
May 15, 2008

Distributor
NBC

Genre
Comedy

Show Period
2005 - 2009

Production Company
Amigos de Garcia Prod., Fox TV


Cast and Crew
---
Director
Michael Fresco
Screenwriter
Hilary Winston
Main Cast
Additional Cast
Jim Lau
Gabriel Pimentel
Julanne Chidi Hill
Synopsis
---
Earl soon learns three's a crowd now that he and Billie are married. While he struggles to come to terms with her many annoying habits, Billie has decided from now on Randy has to sleep on the balcony. Now that Earl is penniless after blowing all his money on an arsonist's prison prom, Billie is supporting them and turns into a Kleenex Nazi, only allowing one tissue per sneeze. Things weren't like this when Earl was in a coma dreaming of the perfect life with Billie.
In need of advice, Earl heads off to see the smartest person he knows, Darnell. Joy and Darnell's trailer is still on its side, thanks to Earl's party when instead of tipping the strippers, he tipped the trailer. Darnell advises Earl to write down everything that Billie does that annoys him. Darnell shows him the book he writes about Joy in and swears it works. However, when Joy comes home early and reads a "poem" from the "poetry" book Darnell just showed Earl, she doesn't realize the woman in the poem is her, and asks Darnell to write one about her.
While Earl is out getting advice about his wife, Billie's request for a Klondike bar turns into a full-on exercise in humiliation for Randy. Not only does Billie get Randy to dress up as a Girl Scout, but he also has to be a trash target on a highway before she will give him a bar. Earl comes to Randy's rescue and in his quest for relationship advice, Earl seeks out the happiest couple he knows, Stuart and Kenny. As the "happy" couple get it on, Earl isn't sure their suggestion to make love and whisper sweet nothings will work on Billie.
Putting the fella's advice into action, Earl tries to seduce Billie but is shocked when she starts getting more kinky than a man might think natural. Getting nowhere in this quest, Earl confides in his mom, but when Earl's mom begins to talk about sex, he changes the subject and asks about his dad. Earl's mom complains that his father, as usual, isn't around and was rarely around throughout Earl's childhood. Earl realizes his father was a genius. The only way to get along with your wife is to not spend too much time with her!
Armed with the knowledge that he has to avoid his wife, Earl throws himself into his work, with the list being his job. Before he can do anything, Joy walks into the Crab Shack demanding Earl put her trailer back the right way up. With no money and Billie getting stingier, Earl calls in favors from all those on his list he has helped and together they put the trailer back upright.
Earl's having his best day since being married when it comes to crashing halt: Billie calls in the middle of the "trailer-tipping" beer party to tell him to pick up the take out she's ordered. Managing a quick lie, Earl tells her work is crazy, just as someone at the party finds a leg buried under the trailer. Earl realizes it's not a real leg when he looks at his list. Number #86 says, "Stole a car from a one-legged girl."
Earl's facing a conundrum. He's working on the list so he can avoid the stress of being around Billie, but the list is forcing him to deal with other, more stressful women like Joy and now Didi, the most stressful person he's ever met. Undeterred but still confused, Earl and Randy go to the donut shop where Didi works to return the artificial leg, hoping she won't have her shotgun with her. Things turn sour when, after a heated discussion, Didi tells Earl her issue isn't getting her leg or car back, she wants him to experience the pain and suffering he's caused her.
Fulfilling her request, Earl does Didi's shopping using only one leg. He does well until he struggles with a locked door while holding two shopping bags and the key in his mouth. Earl then attempts to cross the street while trying not to get run over as the light timers are set for a person to walk, not hop, across the road. Didi helps Earl see how frustrating it is to pay full price for a pair of shoes when you only need one. Then there's always the question of how to carry two beers without spilling any while hopping to your table in a bar!
When Didi feels Earl has learned his lesson she lets him use the other half of her foot-bath. Earl apologizes for stealing her leg and Didi forgives him and Earl crosses another person off his list. When they get back to the motel, Earl and Randy are confused when they are confronted by a loving, caring Billie who gives Earl his own ATM card for their money and his own box of tissues before heading to the vending machine.
Trying to work out karma's lesson, Earl and Randy figure if Earl makes amends for annoying all the women in his life, then maybe his wife will be nice to him. Putting it to the test, he apologies to Catalina for slapping her at Club Chubby at Christmas. Catalina promptly beats him up in reply. Billie soon returns from the vending machine with Earl's favorites, lemonade and chubby cakes, before going to the bathroom and shutting the door. That proves it for Earl; he's cracked karma's mystery for this week anyway.