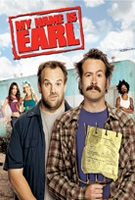 TV Info
---
Episode Premiere
March 30, 2006

Distributor
NBC

Genre
Comedy

Show Period
2005 - 2009

Production Company
Amigos de Garcia Prod., Fox TV


Cast and Crew
---
Director
Eyal Gordin
Screenwriter
Vali Chandrasekaran
Main Cast
Additional Cast
Andrea DeOliveira
Cece Tsou
Warren Watkins
Anne Johnson
Malcolm David Kelley
Synopsis
---
A few years ago, Earl, Randy and Joy were robbing a house. When the owners came home early, they all had to make an escape. Randy and Joy managed to duck out the back, but Earl was slow on the draw and got stuck in the house. He ended up crashing in the owners' son's bedroom. That night, the boy heard Earl making noise, but he was convinced it was the Boogeyman. Earl wanted to cross #239 off his list, 'Made a kid scared of the Boogeyman.'
Earl wanted to make it up to the boy Alvie, who, years later, was still afraid of the dark. Alvie said Earl could make it up to him by being his slave. Earl found this childish, but he figured Alvie really was just a child. It wasn't until later that night that Earl realized Alvie didn't need a slave, he needed somebody to stay with him because he was still scared of the dark.
Joy was giving Darnell a manicure when Earl came by. Joy's dream was to open up her own shop ' Joy's Nails ' and cater to the metrosexual needs Camden County's men. Earl wanted her advice on how to deal with kids' fears. Joy couldn't offer up any decent advice and was of no help to Earl.
Earl was surprised to see Alvie at the motel. Alvie told Earl that he was the only one who had ever cared about him and since his father had gotten remarried, he only focused on his new wife and their baby twins. He told Earl he was moving in with him and Randy. When Earl tried to call Alvie's dad, Alvie kept hanging up the phone.
Alvie's father called the cops and told them his son had been kidnapped. Before Earl could explain the situation, police cars and the S.W.A.T. team surrounded Earl's motel room. Meanwhile, Catalina was in hiding because she thought the cops were after her for being an illegal citizen. Earl tried to urge Alvie to go home with his father, but he refused. He wanted to stay and live with Earl.
Alvie's father broke through the police barriers to get his son back. Alvie watched as his father undertook the daring rescue. Alvie was so proud, especially when his father got shot with a beanbag by one of the cops. He realized how important he was to his father and that he actually risked his life to get Alvie home safely. Randy and Earl watched the reunion while hiding under the bed. After the rescue, Earl realized he'd given Alvie a better relationship with his father and because of that, he would feel safer in the dark. Earl was able to cross Alvie off his list.