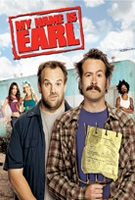 TV Info
---
Episode Premiere
February 09, 2006

Distributor
NBC

Genre
Comedy

Show Period
2005 - 2009

Production Company
Amigos de Garcia Prod., Fox TV


Cast and Crew
---
Director
Marc Buckland
Screenwriter
Danielle Sanchez-Witzel
Main Cast
Additional Cast
Kasan Butcher
Alan Conn
Jacob Newman
Synopsis
---
Earl says the really nice part of being friends with Catalina is they get good stuff when people check out and leave things behind. One of those things is a laptop computer, which reminds Earl of No. 37: Stole a laptop.
A year ago, Earl stole a laptop out of a car. Now, he and Randy decide to try and find the computer's owner, but they get in a car accident along the way. He knocks over a bus stop and is forced to place that on his list as well. He tells an old lady he'll fix it tomorrow.
Randy finds the computer owner's name on the back of the laptop ' it's a college professor. Earl isn't looking forward to this because he's never done well with smart people.
At the college campus, an all-day fraternity party sidetracks Randy. Earl tries to pry him away, but he wants to stay and drink. Earl decides to find Professor Alex Meyers. Alex turns out to be a total hottie, and Earl has even more trouble with smart women than smart men. When he approaches Alex, she thinks he's a mugger and kicks him in the balls. She feels terrible when she realizes he's there returning her computer instead.
Alex asks Earl to speak in front of her class to talk about karma. She's intrigued by his own sociological karmic experiment. Earl then steps in gum because he forgot about the promise he made to fix the bus stop. Until he does, karma will keep biting him in the ass.
Earl sits in front of Alex's class and explains to them about karma. He tells them about his list and lays it all out. The class is enamored by his stories and Alex loves it too. They really hit it off and she invites him to a luncheon. He agrees to go, but then gets hit by a Frisbee ' karma again because of the bus.
Randy is excited about staying the night but then reminds Earl about the bus stop. Because Alex is so hot, Earl says it's worth skipping ' karma be damned. Earl gets hit by a bottle cork and then a bird poops on him. Then a bee stings him. Alex doesn't believe him, but Earl knows he has to cross something off his list. The bees then attack Alex, and Earl tells her he has to get away from her before she really gets hurt.
Earl and Randy fix the bus stop sign and Earl renews his pledge to continue with the list. He says that one day, he'll be in a good position to date a girl like Alex ' but until his list is done, it's just going to have to wait.