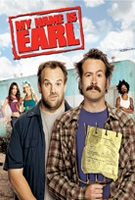 TV Info
---
Episode Premiere
January 26, 2006

Distributor
NBC

Genre
Comedy

Show Period
2005 - 2009

Production Company
Amigos de Garcia Prod., Fox TV


Cast and Crew
---
Director
Marc Buckland
Screenwriter
Greg Garcia
Main Cast
Additional Cast
Tracy Ashton
Booth Colman
Dona Hardy
George Sharperson
E.J. Callahan
Synopsis
---
Ever since Earl won the lottery and got out of the stealing business, Randy hasn't had any income. Earl thinks it might be time for Randy to get a job. While reading the paper, Earl learns that a friend of his, Hank, has been busted for trying to rob a liquor store with a crossbow. Hank is on the list.
Hank is No. 18, 'Told an inappropriate story at Hank's birthday party.' The story Earl told was about a bachelor party where Hank went into the bathroom with a stripper and she turned out to be a man. Hank's family was appalled.
Earl wants to cross Hank off his list before they send him to state prison. He visits Hank and asks him what he can do to make it up to him. Hank says he can give him a good day to make up for the bad day. He wants a paper from his hometown, some Yummy's donuts, and for his grandmother to come visit him.
Back at the Crab Shack, Randy looks in the want ads for a job. Darnell tells him that they need a new bus boy if he wants to work there. But Randy finds a job selling cleaning supplies door-to-door.
The next day, Earl gets up early to give Hank a good day. He needs to get everything done before noon because that's when visiting hours are over. Earl first visits Hank's uncle to get a copy of his hometown paper. But he wastes too much time and has to start over tomorrow.
Randy goes door-to-door selling cleaning supplies. He starts at Joy's for some practice. She dupes him into cleaning her whole house, and then decides not to buy anything.
Earl decides to wake up at 8:00 a.m. so he has plenty of time to visit Hank and fulfill his complete day. Unfortunately, the one-legged girl works at the donut shop and he can't get the donuts. He calls the shop to get her to go to the back and he grabs the donuts and leaves the money for them. But he's too late again.
Randy looks for a new job and wants a sign to help him out. He decides to work in cosmetics testing ' but they blind him and he wants to try something different. Earl tells him to just take the job at the Crab Shack.
Earl wakes up at 7:00 a.m. to fulfill Hank's good day. He gets the paper, he gets the donuts, and then he tries to pick up Hank's grandmother. He can't find a place to park and he's too late again.
Earl wakes up at 6:00 a.m. and is determined to give Hank his good day. He gets the paper, he gets the donuts, he picks up the grandmother, but every 10 minutes he has to put eye drops in her eyes or her lids will dry up. She refuses and he's too late again.
Earl wakes up at 5:00 a.m. and Randy comes with him to help. Randy makes everything easier for Earl. The whole day runs smoothly with Randy's help and they get to the prison at 6:30 a.m. Earl realizes that he needs Randy to help him with the list. It's better than a job and Randy thinks his purpose in life is to help Earl.