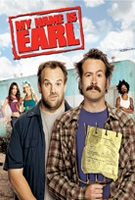 TV Info
---
Episode Premiere
January 05, 2006

Distributor
NBC

Genre
Comedy

Show Period
2005 - 2009

Production Company
Amigos de Garcia Prod., Fox TV


Cast and Crew
---
Director
Ken Whittingham, Marc Buckland
Screenwriter
Greg Garcia
Main Cast
Additional Cast
Christopher Grey
Jeremy Slate
Geoffrey Gould
Josh Philipps
Synopsis
---
A rat sneaks inside the popular claw machine at the Crab Shack. Randy gets it out but it bites him.
Joy is upset at the kids and yelling at Darnell. He says that boys get into trouble, that's just what they do. Joy says that Earl was worse at disciplining the kids than Darnell.
Earl feels bad for Darnell and Joy, especially when they can't get the boys into a troubled kid's camp. Earl and Randy were sent to the camp as kids and they burned down one of the barns. (No. 164: Burned down a barn at the Right Choice Ranch.) Earl realizes that because Joy's kids have his last name, the camp won't let them in.
Joy's kids shouldn't have to pay for his mistakes. He doesn't want to tell Randy where they're going because Randy is afraid of chickens and they have them on the ranch.
They arrive at the ranch and Randy starts to sweat when he hears a rooster. Earl meets the head of the ranch, who tells him that they've created a legend out of him. They tell the kids that Earl is dead and was shot in the face. They use the story as inspiration for kids who aren't coming around.
They tell Earl he can make them a proper ostrich pen to make up for the barn being burned down. Randy inadvertently makes his way into the ostrich pen and pretends to be dead.
Earl and Catalina start building the pen and Joy and Darnell bring the kids to the camp. Earl's new good name gets her kids in.
But he quickly realizes that by destroying the barn, he also destroyed Randy's opportunity to have a good life. Randy doesn't want to get on the list. Then Randy tells Earl it was actually him who burned the barn down.
Earl now says the list is both of theirs as Randy is responsible for not letting Earl have a better life, due to him getting them kicked out of the ranch.
He makes Randy get up early and start working on the list. Earl makes him spend a full day of righting Earl's wrongs. Because Randy was responsible for what Earl became, he now has to make up for all the wrongs.
Earl says it was like a vacation until he came across one he couldn't do on his own. Earl promised the boys he'd take them to Mystery Fun Land, but he reneged when he went to AC/DC concert instead.
Earl takes Joy's kids to Mystery Fun Land but when they arrive it's no longer there. The kids say they forgive Earl so it's okay, they don't have to go to Fun Land. Earl realizes he has to forgive Randy as well. He realizes that when someone is genuine and sorry, then it's okay.