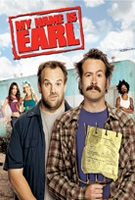 TV Info
---
Episode Premiere
November 15, 2005

Distributor
NBC

Genre
Comedy

Show Period
2005 - 2009

Production Company
Amigos de Garcia Prod., Fox TV


Cast and Crew
---
Director
Marc Buckland
Screenwriter
Greg Garcia
Main Cast
Additional Cast
Sam Rubin
Pam Trotter
Toya Brown
Rakefet Abergel
Synopsis
---
Randy gets an invitation to Joy and Darnell's wedding, but Earl isn't invited. Randy invites Catalina to be his 'plus one' because he wants to dance with her.
Earl visits Joy and says they need to talk. She's getting married next Wednesday on his birthday. He's upset because she invited all his friends and they won't be able to go to his party.
Joy and Darnell get married at the park and Earl shows up drunk. All he wants is to be friends with Joy and takes over the MC's microphone to profess that desire. Earl says that he's not mad at her for having the wedding on his birthday. But then he accidentally kicks a soccer ball into Joy's face and ruins her wedding ' which becomes No. 261 on his list.
Earl brings Joy balloons and apologizes. He wants to make it up to her and give her a better wedding, but Joy just wants to be left alone. Earl finally wins her over and they plan her wedding together ' buying a dress, plates, napkins and other supplies. They get along so well that things progress a little further than they should. Joy and Earl end up hooking up again.
Earl quickly realizes it was a mistake to have sex with Joy three days before the wedding. She accuses him of seducing her. He goes to apologize but she says she wants to forget about it all together.
Unfortunately Earl can't forget about it because it's already on his list ' No. 262, slept with Crab Man's fianc'. Joy says that if he wants to have a good relationship with her, he needs to keep his mouth shut.
At Joy's rehearsal lunch, they go to a pizza parlor and Darnell makes a toast. He says he's a very lucky man and Earl is a good friend for helping them plan everything. Earl realizes he can't keep a secret from Darnell and has to tell him about him and Joy.
Joy stops Earl and says that she will tell Darnell herself. Instead, she tells Darnell that Earl slept with his mother. Darnell attacks Earl, but then Earl tells him the truth. Darnell is crushed.
Earl tries to console Darnell and tells him it was a total accident. Darnell says he's not mad because he did the same thing to Earl. But Earl says he never saw Joy scared before and she was scared of losing Darnell.
Joy and Darnell end up getting married and Earl is invited. He can scratch both No. 261 and 262 off his list. And, Randy gets to dance with Catalina!