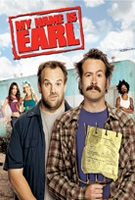 TV Info
---
Episode Premiere
November 01, 2005

Distributor
NBC

Genre
Comedy

Show Period
2005 - 2009

Production Company
Amigos de Garcia Prod., Fox TV


Cast and Crew
---
Director
Lev L. Spiro
Screenwriter
Danielle Sanchez-Witzel
Main Cast
Additional Cast
Suzanna Sanchez
Kay Benjamin
Cami Raich
Missi Pyle
Synopsis
---
For Earl, winning the lottery has opened the door to the finer things in life. Like buying real Frosted Flakes instead of the generic brand. Unfortunately, having money also brings problems, like Earl's ex-wife Joy.
Catching her in his hotel room, Earl asks Joy what it's going to take to get her to stop trying to steal his money. Joy asks him if she's on his 'list.'
Earl tells her she is and wants to know if making up for something on the list will make her stop. She grudgingly agrees that it would.
Earl finds No. 153, 'Broke Joy's Fancy Figurine' ' he and Randy were playing with firecrackers and blew up Joy's figurine.
She agrees to let Earl make up No. 153, but asks him what happens if he can't replace what he broke. Earl tells her that he makes it up in some other way. Joy says she doesn't want the stupid figurine, she wants a hot tub instead.
Not wanting to shell out the dough for that, Earl decides to investigate where the figurine came from. It turns out the figurine is given to first-place winners of a mother/daughter beauty contest. Unfortunately for Earl, the only way to get one is to win the pageant.
Earl then visits the one woman Joy could never beat in the beauty contest ' Shelly Stoker. He asks Shelly if he can buy a figurine from her, but she says no. She offers Earl a trade instead. If he helps Shelly and her daughter Candy with their talent for this year's pageant, he can keep the figurine.
Earl agrees ' what's the talent? Throwing knives' at Earl.
Earl later asks Joy why she never told him about winning the pageant. Joy says again that she doesn't want the pageant prize, she just wants a hot tub.
Earl still wants to make it up to Joy in his own way, but there is a new hitch in his plan: Candy doesn't want to be in the pageant and hasn't had the stomach to tell her mother about it.
Earl tells Candy that she should listen to her mother (for his own selfish reasons ' we know how this karma stuff works by now)
In the meantime, Joy finds a way to enter the pageant herself, thinking that if she wins instead of Earl, he'll have to buy her a hot tub. She decides to enter with her mother, er, her mother's ashes. Apparently there's a loophole in the pageant rules.
At the pageant, Joy goes all out to win. She sings, she dances, she wears a tight little bikini. But Earl knows that it all comes down to the knife-throwing Stokers. Unfortunately for Earl, he realizes that it's more important to not hurt Candy than help Joy, so he tells her to hit him in the leg. It's the only way her mother will let her off the hook.
They spin Earl on a big wheel and Candy tosses her knife right into his leg. For Earl, the smile on her face ALMOST outweighs the pain of the injury.
Joy wins the competition, assuming that Earl will buy her a hot tub, but in sabotaging the pageant, he kills two birds with one stone. He both helped Candy and got Joy her prize back.
Earl says it doesn't matter whether Joy thinks he can cross her off the list or not. All that matters is that he knows he can.