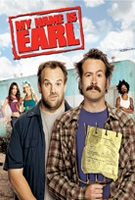 TV Info
---
Episode Premiere
October 18, 2005

Distributor
NBC

Genre
Comedy

Show Period
2005 - 2009

Production Company
Amigos de Garcia Prod., Fox TV


Cast and Crew
---
Director
Chris Koch
Screenwriter
Victor Fresco
Main Cast
Additional Cast
Phoenix Smith
Wahn Lee
Patty Maloney
Tanner Maguire
Synopsis
---
Why is Earl wearing a fancy jacket and teaching English to a class of immigrants? Because of No. 27 on the list: 'Made fun of people with accents.'
Earl always thought it was hilarious to make fun of foreigners for not speaking correctly, so he asks Catalina what he should do to make up for it. She tells him to teach those same people English.
Meanwhile, a friend of Earl and Randy's ' Ralph Mariano (Giovanni Ribisi) shows up after spending his last 18 months in prison.
Earl tells Randy not to let Ralph know about Earl's new life and the list and the money. Especially because he taught Ralph how to steal in the first place.
Earl wants to tell him, but he also wants to hang out with his old friend again. One stealing spree later and Earl realizes he has to come clean. His biggest concern is whether hanging out with people who do bad deeds will affect his karma as well.
Ralph is shocked, but accepts Earl anyway and decides to go straight himself. Thrilled, Earl gets Ralph a job at a lamp store.
Back at Earl's class, he teaches his students how to drive to 'where Earl lives.' He doesn't think he's getting through though as all they do is repeat catch phrases from popular television shows.
Ralph on the other hand, ends up stealing all the lamps from the job. He tried changing, he was even good for a full half day, but when he bought lottery tickets and didn't win, he figured stealing was a lot easier. Earl tells him if that's the case, he simply can't hang out with Ralph anymore. The only problem, Randy chooses to keep spending time with Ralph, in spite of Earl and the list.
Earl doesn't have time to mope about Randy though. He has a class to teach. Unfortunately, on his way out, Ralph makes up a story about Randy breaking into a house and getting stuck in a chimney. Ralph then knocks Randy out with a stolen lamp and breaks into Earl's room looking for the money.
Ralph ties Randy to a dolly and holds him hostage until Randy tells him where the money is. After being tortured, Randy finally discloses that the money is in the bank and Earl carries the safety deposit key around his neck.
When Earl returns from looking for Randy, Ralph smashes him over the head with a lamp as well. He then takes Earl's safe deposit key and driver's license to steal his money. He dresses up like Earl and tries to fool the bank.
Earl thinks it's all over until karma throws him a bone once again when his students show up at his door because he didn't show up in class.
His teaching worked!
As a result, Earl calls the bank to stop Ralph and they call the police.