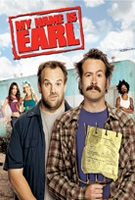 TV Info
---
Episode Premiere
October 11, 2005

Distributor
NBC

Genre
Comedy

Show Period
2005 - 2009

Production Company
Amigos de Garcia Prod., Fox TV


Cast and Crew
---
Director
Tamra Davis
Screenwriter
Hilary Winston
Main Cast
Additional Cast
Synopsis
---
While making up for No. 203 on the list, "Stole various snacks and drinks from a local quick stop," Earl inadvertently runs into Natalie Duckworth. She's No. 84 on the list, "Faked my own death to break up with a girl."
Earl thought he and Natalie were a lot alike when they met. It was at a biker bar, and he took her home that night.
In the morning though, he woke up to find himself in a pink room, surrounded by stuffed animals and papier-m'ch' dolls with a clingy girl who jumped right into relationship mode.
One whole month passed by and he knew it was getting too serious. But he didn't want to hurt her feelings, so he sent Randy to tell her he died at sea. And now, he needs to make up for it.
Catalina says not to tell her the truth because her feelings would be too hurt. Earl takes her advice and tries to explain to Natalie that she was too good for him and he could never live up to those standards.
He's okay with telling this lie because she seems to be doing well in life and has a new guy named Dirk.
Only problem is, Earl can't cross her off the list. Natalie shows up at Earl's door because Dirk's car was found in the woods with blood in it. Earl quickly learns that Dirk got the 'fake your death' idea from Earl.
Catalina says if Earl wants to cross this one off the list, he should be supportive of Natalie. So he hangs out with her to cheer her up. Of course that backfires, because he's too nice and Natalie falls in love with him again.
Catalina says Earl was too nice to Natalie. She says he now needs her to break up with him. He needs to give her the power. Earl takes Catalina's advice again and becomes a bad boyfriend. But that doesn't work either.
Finally, Earl tells her the truth. She's the problem because she's insecure, clingy and a human doormat. She leaves and Earl remarks that he was hard on her, but she needed to hear the truth. Except she's so distraught, she commits suicide.
Earl, Randy and Catalina attend the funeral, but Natalie has been faking it! She isn't dead but wants Earl to feel what she felt. She's finally gotten even with him and Earl feels comfortable enough to cross her off the list.