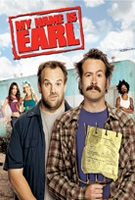 TV Info
---
Episode Premiere
October 04, 2005

Distributor
NBC

Genre
Comedy

Show Period
2005 - 2009

Production Company
Amigos de Garcia Prod., Fox TV


Cast and Crew
---
Director
Marc Buckland
Screenwriter
J.B. Cook
Main Cast
Additional Cast
Cheryl Hawker
Jake Galasso
Bob Rumnock
Dennis Burkley
Synopsis
---
Ever since his divorce and discovering karma, Earl has felt great. And the more he crossed off the list, the more he got rewarded. Until one morning he woke up to find that someone had spray-painted his car with "U R AN ASS." Not everything was coming up roses yet.
Assuming it was Joy who defaced his automobile, Earl paid her a visit. She of course denied it. But Earl caught her with paint on her hands. Unfortunately, she threatened to keep bothering him until she gets half of his money.
While at her house, Earl finds out that Joy pawned his grandfather's cuckoo clock. Earl wanted it back because it was the only thing is grandfather ever gave him.
He decided to buy the clock back and also bring an extra $100 for Rosie, the pawn shop operator and local bookie who Earl cheated. #58 "fix a high school football game." When Randy was in high school, Earl bet against his team and Randy made sure they lost.
Earl decided to pay Rosie back. But Rosie told Randy that he had one chance to score a touchdown and he threw it all away because Earl told him to. Earl realized he didn't just cheat Rosie - but Randy also. So he decided to put Randy on the list and vowed to make it up to him.
The going back to high school part was a little tricky, so Earl had his friend Kenny help him create a fake birth certificate. Earl then enrolled him in a high school with the worst football team.
Earl picked Randy up after his first day of school, but when he came outside, his car was missing. Joy! Randy and Earl visited joy again and she told them she had the car towed. Randy then let is slip that Earl's money was in the car.
Unfortunately for both Earl and Joy, they still owed $3,000 for unpaid parking tickets and neither were going to get the car out without the money.
Earl knew that neither he nor Joy would be able to come up with the money, so he concentrated his efforts on getting into the car.
Meanwhile, Joy tried getting the money in her own ways and ended up pawning everything she owned. She still came up short so she and Darnell stole metal guardrails on the side of the road and took them to a recycling dump.
At the football game, Randy was a little rough on the field. All the years of drinking and being lazy took their toll on him. But when he had one last chance to score a touchdown, he accidentally fumbled on the one-yard line.
Earl felt horrible. He set Randy up to fail. Also, Joy raised the money. Earl didn't want his life to be ruined but it seemed inevitable at that point.
But just when he thought it was all over, Randy drove up with the car. Apparently he fixed the game all over again, and won enough money to get the car out. He told Earl that it felt just as good getting the car back as any touchdown could.
As for Joy, well, as she was driving to get Earl's money, she nearly hit a homeless man and drove her car right into a ditch - that would've been guarded if not for the rails she stole earlier.