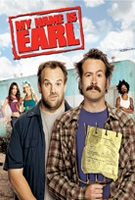 TV Info
---
Episode Premiere
September 27, 2005

Distributor
NBC

Genre
Comedy

Show Period
2005 - 2009

Production Company
Amigos de Garcia Prod., Fox TV


Cast and Crew
---
Director
Marc Buckland
Screenwriter
John Hoberg, Kat Likkel
Main Cast
Additional Cast
Kathryn Joosten
Silas Weir Mitchell
Andrew Wasser
Scott Lincoln
Synopsis
---
The toughest part of Earl's new life is trying to figure out which number on the list to do next. That's the problem when you've done over 200 things wrong. There's a lot to make up for.
While sitting and pondering by the pool, Randy and Catalina give Earl a tape cassette to help him quit smoking: No. 102 'Harmed and possibly killed people with second-hand smoke.'
Earl decides to hold off on the smoking thing when Catalina asks if she can pick another one. Earl agrees, but she picks No. 112, 'Let Donnie Jones serve jail time for a crime I committed.'
A few years back, Earl robbed a donut shop wearing a mask, but also a shirt he stole from Donnie with Donnie's name on the back. Donnie had a checkered past and no alibi for the night of the robbery. A jury found him guilty and he served two years in prison.
Earl decides he will quit smoking instead of dealing with Donnie. Randy says Earl's just scared. Earl lies and says he isn't, but everyone knows Donnie is certifiable.
So Earl goes back to quitting smoking. Only problem with quitting though, is that it makes Earl stressed, and when Earl stresses, he smokes.
Meanwhile, Earl had other things to worry about, like his ex-wife. Joy found a tape of Earl telling a camera that if he ever dies, he wants Joy to have everything he owns. So Joy decides to try and kill Earl. She's using a crossbow, but her aim is a little off.
Just as she's about to slice Earl's head in two, Randy and Catalina pick him up and trick him. They drop him off in front of Donnie Jones' house ' forcing him to face his fears.
Earl tells Donnie that he's on a mission, and that he's recently discovered karma. Donnie tells Earl he knows what he's getting at because he found Jesus in the joint. He says that prison turned out to be a blessing in disguise.
Earl thinks he's safe to tell Donnie the truth with Jesus in his corner. When Earl tells him about the store, he still fears for his life because Donnie used to be crazy. Donnie forgives Earl just the same. He tells Earl he can cross him off the list.
Everything seems to be fine, until Donnie's mom knocks Earl out with her oversized Bible. She tells him he put her boy away for two years and she doesn't forgive him. She says she'll never get those years back.
Earl puts her on the list. 'Took Donnie away from his mother for two years.' But then something happens. Earl notices that Donnie's mom is a smoker. If there is a way to give Donnie two more years with his mother, it's by making her quit smoking.
Earl kidnaps Donnie's mom and ties her to a chair to make her stop smoking. And Earl says he's going to quit with her. They're going to do it together.
They try the tapes. Then they try the patches. Then even try smoking carrots. But after a lot of time, TV and burnt carrots, they beat the addiction. It's hard, but Earl has given Donnie's mom some life and himself some as well.
Joy tries to kill Earl one last time, but Earl has written a new will and told her that there's no more money in it for her.