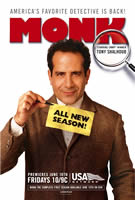 TV Info
---
Episode Premiere
January 09, 2009

Distributor
USA Cable Network

Genre
Drama, Comedy

Show Period
2002 - 2009

Production Company
Mandeville Films, ABC, NBC, UMS


Cast and Crew
---
Director
David Hoberman
Screenwriter
David Hoberman
Main Cast
Additional Cast
Synopsis
---
It's morning, and Monk is alone in his apartment, making breakfast and watching the news. A story comes on the television about a convict who escaped from a local correctional facility the previous night, killing a woman in the process. Then, Monk hears a noise. There's someone in Monk's apartment! Monk confronts the intruder, who turns out to be the recently escaped fugitive. Monk wants to call the police, but the fugitive begs Monk for mercy, claiming to be Monk's half-brother, Jack Monk, Jr. Monk agrees not to alert the authorities until hearing Jack's story.
Jack was serving a long prison sentence for selling stolen cars, and decided to escape. He dug his way out of his cell, crawled through a sewer, and emerged in the prison's parking lot in the middle of the night. He saw what appeared to be an abandoned car, but was shocked to find the dead body of a well-liked prison social worker named Lindsay Bishop. He tried calling 911, but before he could, a guard opened fire from a watchtower, and Jack ran for his life.
Jack is willing to go back to prison, but first he needs Monk to clear him of Lindsay Bishop's murder, which Jack insists he did not commit. Monk is skeptical, but after an emotional plea from Jack's mother, Monk agrees to help Jack.
Jack, disguised and posing as Monk's "pen pal," joins Monk as he investigates Lindsay Bishop's death at the prison parking lot. Monk meets the prison warden, and a guard named Daniel Reese, who fired the shots at Jack during the escape. Monk learns that Lindsay Bishop was stabbed to death with a homemade knife made from an expensive piece of silverware. Monk leaves the scene believing that Jack could be telling the truth.
Monk suspects that somebody is trying to frame Jack for Lindsay Bishop's murder. Monk asks if anybody else knew about Jack's plan to escape, and Jack reveals a little more of the story. Apparently, the escape plan originated with Jack's cellmate, Shiv Logan. But the night of the escape, Jack cracked Shiv over the head and took Shiv's place.
Monk wants to talk to Shiv, but Jack won't allow it out of fear that it would blow Jack's cover. Instead, Monk and Jack head to Lindsay Bishop's house to poke around. Monk deduces that Lindsay was having an affair with someone, which could explain why she was killed. Meanwhile, back at the prison, Shiv has turned up dead.
Monk is making progress on the case, but during a session with Dr. Bell, Monk realizes that Jack is not really planning to go back to prison, and is in fact preparing an escape to Paraguay. A furious Monk is finally ready to turn Jack in, when he notices that Jack is wearing a watch stolen from Lindsay Bishop's apartment. The watch is engraved with the initials "L.B. to D.R." Monk has solved the case: Lindsay was killed by someone at the prison with the initials "D. R."
Monk rushes with Jack and Natalie to the home of Daniel Reese, the prison guard who shot at Jack the night of the escape. When Daniel answers the door, he's eating ice cream with a spoon that matches the silverware used to make the weapon that killed Lindsay Bishop. Reese flatly denies any involvement with Lindsay Bishop's death. But when Monk, Jack and Natalie walk away, and Reese starts shooting at them, they know for sure that Reese is the guy!
Monk, Natalie, and Jack duck for cover. Monk explains what happened as bullets whiz past them. The whole escape plan was a set-up. Reese decided to kill Lindsay Bishop, with whom he'd been having an affair, and make it look like a prisoner killed her during an escape. The patsy was supposed to be Shiv, but Jack messed things up by getting involved.
But none of that matters at the moment, as Reese has Monk, Natalie, and Jack pinned down. Jack, who'd been keeping Reese at bay with Monk's gun, makes a dash for Natalie's car and drives off, apparently to Paraguay or some other haven. Reese emerges from his house and approaches Monk and Natalie. Then, Jack reappears and plows Reese over with the car, just in the nick of time.
With the murder solved, Jack turns himself in to the police as promised. Monk says an emotional farewell to his half-brother. But is Jack going away for good, or does he have another escape planned?