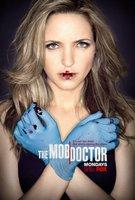 TV Info
---
Episode Premiere
January 07, 2013

Distributor
Fox

Genre
Thriller

Show Period
2012 - 2013

Production Company
Sony Pictures Television


Cast and Crew
---
Director
Michael Watkins
Screenwriter
Josh Berman, Rob Wright
Main Cast
Additional Cast
David Pasquesi
Adam Harrington
Mike Starr
Synopsis
---
Gunshot victims Constantine and Grace's mother, Daniella, are rushed to the hospital. After sending Grace - who grabs Constantine's phone - away, Stafford tends to Constantine, and Brett takes Daniella.
When Nate calls Constantine's phone and Grace learns four crew members were murdered, Grace tells him about Constantine and Daniella. Agent York asks Grace what she saw (nothing). But York knows she's Constantine's doctor and that Nate works for Constantine.
After surgery, Daniella's condition remains critical. Nate tells Grace the Nogales cartel was behind the shootings. Grace warns Nate the FBI is watching him. Constantine also survives, and Stafford - who knows about Grace's mob involvement - orders her to stay away from Constantine. York informs Grace that Nate will serve 20 years unless he turns state's witness. And Al Trapani tells Grace that Constantine killed her father.
York pressures Ro into admitting that Grace used to date Franco. Grace asks Constantine if he killed her father. Constantine says he couldn't have done that because he's Grace's true father, and he had come to her house to tell her this just before he got shot.
When Daniella regains consciousness, Grace asks if Constantine's really her father. Daniella confirms this. She was afraid her husband would kill her, so she never told anyone. Grace - who always remembers finding her "father" dead when she was six - is shaken by what she's just learned.
Grace tells Franco about Ro's slip. Franco advises Grace to plead ignorance. Meanwhile, Daniella dies from an embolism.
Grace blames Constantine for Daniella's death and threatens to tell the FBI everything she knows. Constantine plays Stavos's message about Trapani's lying to the cartel - which made Constantine a target - adding that Trapani told Grace that Constantine killed her "father" to drive a wedge between them. And if Grace wants to avenge Daniella's death, she'll help Constantine take down Trapani. OK.
Grace asks Luke to use his Miami contacts to tell the cartel about Trapani's lie, and to set up a meeting with Tiago Enriquez, the cartel's top man in Chicago. She also tells Luke that she's Constantine's daughter, and Luke agrees to help.
York confronts Franco about his involvement with Grace and her criminal activity. Franco denies everything, but York says Grace's fingerprints were all over Franco's safe house. He intends to press charges and takes Franco's badge and gun.
Grace meets Enriquez - who's angry that Trapani played him - and his thugs. Speaking for Constantine, Grace offers Enriquez free access to the Eisenhower Expressway, which Trapani controls, if Enriquez forgives Luke's debt and kills Trapani. Once Enriquez agrees to the deal, Grace spits in the face of the thug who killed Daniella.
When Grace relays this to Constantine, he says it'll lull the cartel into a false sense of security and give him time to strike back. The deal was illusion and only Grace could sell it. Grace is furious. She wants out. Constantine refuses, saying she has no choice. She's his blood, his family. Then he falls asleep.
After muting Constantine's alarm, Grace injects him with insulin, removes the memory chip from his phone, trashes the syringe, and walks out. Constantine flatlines.
Grace tells Nate that she's out of the mob business. He's staying in. They hug.
Grace walks out of the hospital, gets into Franco's car, and they kiss. Franco says, "Mexico, here we come."