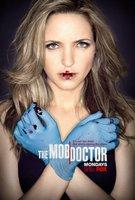 TV Info
---
Episode Premiere
January 05, 2013

Distributor
Fox

Genre
Thriller

Show Period
2012 - 2013

Production Company
Sony Pictures Television


Cast and Crew
---
Director
Kate Woods
Screenwriter
Zachary Lutsky
Main Cast
Additional Cast
Kevin J. O'Connor
Patrick Mulvey
Mike Starr
Christian Castro
Synopsis
---
Constantine tells his son, Luke, he hasn't contacted him in 25 years because he'd promised Luke's mother he wouldn't. Luke explains he's only here because he unwittingly borrowed money from the Nogales cartel and can't repay them. Luke refuses to stay with Constantine, who tells Gio to follow Luke.
Meanwhile, Grace and Olivia discover that Stuart Maslan, who collapsed during a Lamaze class, has an unstable heartbeat. When they try to correct it, he flatlines. But when Stuart's wife asks to see his body, Stuart sits up and starts talking!
Constantine asks Trapani to arrange a meeting with the cartel so Constantine can cover Luke's debt. In return, Constantine offers Grace's services to Trapani's ailing girlfriend, Chloe, who refuses to go to the hospital.
While Stafford orders Olivia to run further tests on Stuart, Trapani tells Constantine the cartel has already sent hit man Diego Balt to kill Luke.
Grace discovers Chloe has breast implants, which may be leaking and affecting her immune system, so she has to go to the hospital. Chloe doesn't want to, but Trapani convinces her to go.
Constantine gets Luke's location from Gio, then whisks him away in his car just seconds before Diego can open fire. Constantine checks Luke and Gio into a hotel, but Trapani tells Constantine the cartel can't contact Diego and call off the hit.
Tests reveal that the electrical impulses within Stuart's heart are still erratic, so he remains at risk. Stuart's also been having nightmares for weeks, and now blood is collecting around his heart. Meanwhile, Grace learns Chloe's implants weren't leaking, but her urinary tract is bleeding.
Gio mentions his whereabouts to newsstand operator Eddie. When Gio leaves, Eddie makes a phone call.
When Chloe's bleeding is linked to a tumor on her prostate, Grace and Brett discover Chloe's a transsexual! Chloe fears Trapani will kill her if he learns this, so they respect her secret and rush her into surgery. Afterward, they tell the couple the tumor invaded Chloe's uterus, so she'll be unable to have children, but she's OK.
Stafford discovers Stuart's been taking large amounts of a natural cough suppressant that contains foxglove, which is the source of all Stuart's medical problems, so he takes counteractive measures. Meanwhile, his wife's water breaks, and she delivers a boy.
Trapani tells Grace he always knew Chloe was a transsexual and didn't care, but doesn't want anyone else to know. Grace says she knows how to keep a secret.
After watching Gio leave the hotel room, Diego picks the lock, hears the water running and fires into the shower curtain. When Diego discovers the shower is empty, Constantine guns him down.Constantine's crew all praise their leader's ingenuity. According to Trapani, the cartel has agreed to a truce until they meet with Constantine. After Luke tells Constantine he wants to meet Grace, adding his mother told him about her, Constantine says he's going to the Devlins' home.
The cartel's lawyer calls Stavos, who tries to phone Constantine. Trapani lied. There's no truce, and Trapani apparently never told the cartel that Constantine offered to pay Luke's debt. But Constantine stopped for a drink, leaving his phone in his car, and didn't get the call.
Two thugs burst in with machine guns and kill Gio and Bobby. Stavos gets shot and tortured into revealing Constantine's location.
As Constantine knocks on the Devlins' door and tells Grace's mother it's time to tell Grace, the thugs spray them with machine gun fire. Grace sees their bleeding bodies and screams for help.