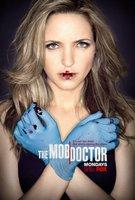 TV Info
---
Episode Premiere
December 29, 2012

Distributor
Fox

Genre
Thriller

Show Period
2012 - 2013

Production Company
Sony Pictures Television


Cast and Crew
---
Director
Peter Weller
Screenwriter
Mick Betancourt, Cathryn Humphris
Main Cast
Additional Cast
Mike Starr
Kevin J. O'Connor
Patrick Mulvey
Synopsis
---
Grace tells Constantine she didn't know Franco was working with Russell King. Constantine orders her to call him if she sees Franco again. Grace tells Franco that Constantine knows about their relationship, but Franco needs to resume his undercover work in Chicago and ignores her warning.
As Constantine sends Nate, Louie and Gio to pick up protection money, Franco introduces King to Tony, who runs a downtown Chicago chop shop. Meanwhile, Father Doyle arrives at the hospital, claiming he was bitten by a demon while attempting an exorcism. Brett instead finds that Doyle was bitten by a human and may have an infection.
Constantine tells King that if he operates in Chicago, the mob must get a percentage of his take. When King replies that downtown Chicago isn't under mob control, they trade warnings.
Brett finds Doyle's not obviously infected, but when Doyle attempts to leave, he collapses, and Grace gets cut by a flying scalpel that Brett was using on Doyle. Since Grace may now have an unknown infection, Stafford sends her home.
When Louie enters a store to pick up the money, Nate and Gio hear a gunshot, and someone runs out the door. The thugs knock him to the ground and find he's a teenager, but now he's unconscious. Louie says another man shot the owner, took the $5,000 and ran out the back, but the teenager can identify the shooter, so they take him to a safe house. Nate summons Grace to help.
After Brett performs a spinal tap for possible meningitis, Doyle grabs the needle, claims he's possessed by the demon he was trying to exorcise and threatens the doctors. Constantine tells mob bosses Al Trapani and Celeste LaPree they should add downtown Chicago to their territory. Both refuse, saying the media attention for any crimes committed there isn't worth it.
Grace revives the teenager and finds he's an asthmatic runaway, but he won't talk. Father Keyes tells Doyle that Lisa, the woman whom he was trying to exorcise, has died, so her demon has found a new host in Doyle. When Keyes attempts to exorcise the demon by sprinkling Doyle with holy water, Doyle reacts violently.
Constantine offers Celeste half the take from downtown Chicago, and Stavos offers Trapani the same deal. They both take it. Meanwhile, Stafford and Brett discover a rat bite on Lisa's ankle. If she died from rabies, it was passed on to Doyle when she bit him. And Grace's exposure to Doyle's blood infected her as well.
Grace demands Nate tell Constantine about the shooting. Fearing a kidnapping charge, Constantine tells Nate to give the teenager $5,000 for his silence.
To cure Doyle, the doctors must induce a coma. It's risky, but Doyle pulls through. Meanwhile, the teenager needs another inhaler, so Grace gets one from her car. She revives him, then finds Louie's ready to kill them both. But Nate returns and kills Louie first. The teenager says Louie killed the owner, and Nate finds the $5,000 in Louie's pocket. Nate gives the teenager the money to return to Milwaukee.
While Brett gives Grace a rabies shot, Constantine explains that Celeste and Trapani will never agree on anything, so his swing vote keeps the power in his hands. The three bosses then force King to give up a percentage of his take, but Constantine wants something extra . . .
Grace overhears King telling Franco that Constantine forced him to reveal Franco's location. Grace and Franco share a kiss, and Franco drives away.