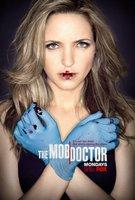 TV Info
---
Episode Premiere
November 05, 2012

Distributor
Fox

Genre
Thriller

Show Period
2012 - 2013

Production Company
Sony Pictures Television


Cast and Crew
---
Director
Thomas Carter
Screenwriter
Cathryn Humphris
Main Cast
Additional Cast
Synopsis
---
Grace remembers when her father stopped drinking for a week, then returned to his usual violent, drunken ways. Even as a child, she knew he'd never change.
Today, Grace tells her patient, Sara, that the heart she needs for a transplant is coming, while Brett tries to determine why his patient, Will Jamison, has an intestinal blockage. He also accuses Olivia of trying to impress Stafford with her diagnostic skills to get back in his good graces after botching a surgery.
As Grace is about to perform the transplant, Sara is stricken with a fever, which postpones the operation, and the heart goes to another patient. Then Constantine asks Grace to visit Eddie Nolan, who's doing life in prison. Eddie tells Grace that he's Sara's father and asks Grace to kill him so he can give Sara his heart. Grace refuses.
Meanwhile, Will's younger brother, Ethan, gets shocked when he tries to plug a frayed cord into an outlet, and he develops muscle spasms. When Grace suggests performing an operation on Sara that will keep her alive until a new heart can be found, Sara tells Grace that both her parents are dead.
Constantine asks Nate to convince bar owners in their old neighborhood to take the video poker machines that Constantine's distributing. Meanwhile, Eddie fakes symptoms that get him admitted to the hospital, and he again asks Grace to kill him. Eddie also mentions that he was Constantine's long-time cellmate and knows Grace's family history very well.
Grace performs the operation on Sara, but complications arise that leave her closer to death. When Constantine orders Grace to comply with Eddie's wishes, Grace refuses to play God, but she will allow Eddie to meet Sara.
Nate visits two bar owners, reminding them of past debts to Constantine, and they agree to take his machines. But a third owner complains that he's being shaken down to a policeman, Sergeant Tavares, who takes Nate outside and beats him savagely.
Olivia determines that Ethan's muscle spasms and Will's intestinal problems are caused by a genetic defect, and Stafford compliments her skill at diagnosis. Grace convinces Sara to meet with Eddie, but when they do, Sara recounts what a poor father Eddie was and sends him away.
Constantine asks Grace to meet him in the ambulance bay, because Eddie's going back to prison. As Eddie leaves, he gets shot in the head, but Grace is there and orders his heart to be kept for a transplant. Meanwhile, Tavares tells Constantine that Nate took the beating but refused to finger Constantine, and he collects a cash payment.
When Sara still refuses to take Eddie's heart, Grace administers enough morphine to render Sara unconscious, then tells Lauren that Sara agreed to take the heart. Meanwhile, Will responds to treatment, but Ethan doesn't, so Brett and Stafford ask his parents for permission to perform a risky surgery, which proves successful.
After the transplant, Sara threatens to go public with Grace's serious breach of ethics, but Grace convinces her to be grateful she's alive. Grace goes home and treats Nate's wounds, ignoring his lies about how he got them.
Grace then accuses Constantine of setting up Eddie's shooting. Constantine shrugs, saying it all worked out.