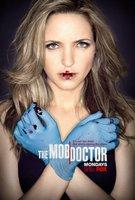 TV Info
---
Episode Premiere
October 08, 2012

Distributor
Fox

Genre
Thriller

Show Period
2012 - 2013

Production Company
Sony Pictures Television


Cast and Crew
---
Director
Michael Dinner
Screenwriter
Mick Betancourt
Main Cast
Additional Cast
Synopsis
---
Grace has memories of a "strange man" who moved into her neighborhood, despite the efforts of the police to make him feel unwelcome, and remembers watching a then-young Constantine savagely beating the man.
Today, as Grace and Brett play pool in her neighborhood tavern, some of her childhood pals arrive, and one falls off the bar. But Tony refuses treatment, and they continue their pub crawl. Then Constantine calls. When Grace meets Franco, he advises her and her family to leave Chicago.
Constantine introduces Grace to Traci, a call girl who's pregnant with an alderman's child. Meanwhile, Franco meets with ex-mob boss Paul Moretti, whom he kept alive following his shooting by Constantine. Franco tells Moretti that mobster-turned-informant Ralph Sevarino is under FBI protection in a local hotel. Moretti gives Franco a photo of a woman, Peggy, and orders him to find her.
Constantine meets the alderman, shows him a sonogram, and tells him to vote in favor of allowing gaming machines in the city. He refuses.
Tony and his pals come to the hospital. Grace staples Tony's head wound, notices brain fluid on his shirt, and rushes him into E.R. Later, Grace makes a key recommendation at a pre-surgery meeting with Dr. Lauren Baylor but learns that Olivia has been given the plum job of assisting Baylor.
Brett tells Grace the fluid wasn't Tony's, but they find his pal, Jimmy, in the waiting room, leaking fluid from his nose, and race him into surgery. Constantine informs Grace that Traci's water broke, and Grace asks Ro to help her deliver the baby. Franco finds Peggy working in a coffee shop and follows her home.
After the baby is born, Traci doesn't want to see it, but she asks for Constantine's money. While Grace relays this to Constantine, Traci loses consciousness, forcing Grace and Ro to perform an emergency hysterectomy. When Traci comes to, she now wants to keep the only baby she'll ever have. Constantine says no.
As Baylor and Olivia perform their surgery, Olivia slips and severs a major nerve. Meanwhile, Franco discovers that Peggy is Sevarino's daughter.
Stafford tells Grace that Jimmy is OK, but a postoperative scan revealed a potentially deadly condition in his brain. When Grace explains the situation to Jimmy and his wife, they decide to forgo a risky surgery and live with his ten percent chance of dying from the condition.
Baylor tells Grace about Olivia's error, adding that Olivia was forced upon her by Stafford, and advises her to be bolder. Later, Grace hands Traci her baby and a plane ticket. Meanwhile, Constantine gives the alderman a lock of the baby's hair and threatens to reveal his parentage.
Moretti enters Peggy's apartment, puts a gun to her head, and forces her to open a video chat with her father. Moretti tells Sevarino to either kill himself with the gun that's been smuggled into his room or he'll kill Peggy. Sevarino pulls the trigger.
Constantine confronts Grace about Traci's disappearance, then reimburses her for the airfare. Grace again remembers Constantine beating that strange man.
Later, Constantine watches the TV news reporting that the alderman now favors allowing gaming machines in Chicago -- and there is also a mention of Sevarino's suicide. Franco and Moretti are watching too.