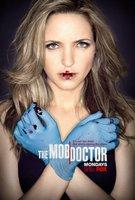 TV Info
---
Episode Premiere
October 01, 2012

Distributor
Fox

Genre
Thriller

Show Period
2012 - 2013

Production Company
Sony Pictures Television


Cast and Crew
---
Director
Ken Olin
Screenwriter
Carla Kettner
Main Cast
Additional Cast
David Pasquesi
Kevin J. O'Connor
Daniel Ruben
Michael Weaver
Synopsis
---
Grace's childhood memories of her parents' fighting, which led her to run away from home, are interrupted when four members of the Kelton family -- victims of a hit-and-run collision with a red SUV -- are rushed into the hospital. Despite Grace, Brett, Olivia, Stafford, and Flanigan's best efforts, the daughter dies.
Constantine summons Grace to deal with a drunk who needs immediate medical attention. Grace discovers the drunk has been in an auto accident, and a slip of the tongue reveals he drove a red SUV. When Grace confronts Constantine about this, his only concern is that the drunk, police captain Patrick Shaw, stays alive.
Grace performs a quick fix but leaves Shaw with internal bleeding that will require attention in 24 hours. She also discovers Nate is working for Constantine, who orders Franco and Nate to torch the SUV.
As the doctors attend to the surviving Keltons, Constantine and his lawyer, Stavos, discuss Constantine's cash flow problems. Meanwhile, Franco tells Nate the reason that he disappeared from Grace's life for a year was due to his criminal involvement, and he advises Nate to get out. When Nate refuses, Franco has him personally set the SUV afire, making Nate a felon.
Grace tells her mother that Nate's working for Constantine, but Mom responds that she has no control over Nate. Constantine points out a neighborhood he used to control that's now run by Marcellus Coyne -- who set up Constantine and sent him to prison -- and he vows to take it back. Ro, like Brett before her, accuses Grace of overempathizing about the Kelton daughter's death.
Meanwhile, Brett wants to perform an operation on the Kelton son that will prevent a leg amputation, but Stafford -- fearing for the boy's life -- overrules him.
Franco tells Grace that Shaw heads a task force that's about to bust the drug dealers in their old neighborhood, so when Shaw arrives at the hospital, Grace enlists Ro to rush him past a suspicious Flanigan into surgery. Meanwhile, Brett gets the boy's father to authorize the risky surgery, which angers Stafford.
After Nate's mother confronts him about working for Constantine, she asks Constantine -- with whom she shares a lot of history -- to cut Nate loose. He refuses and tells Nate to take a TV home to her instead.
Postsurgery complications arise, but Stafford and Brett save the Kelton boy, and Grace tells Shaw about the dead daughter and her mother, who will need occupational therapy for years. While Grace and her mother argue with Nate about the new TV, Constantine toasts a news report about Shaw leading the raid that results in Coyne's arrest.
Grace confronts Franco, saying Shaw's raid wasn't about cleaning up the neighborhood but was motivated by revenge, and warns him not to lie to her again. Then she remembers abandoning her childhood plan to run away and confronts Constantine, threatening to finger Shaw for vehicular murder. Constantine dismisses her and walks to his car -- which explodes into flames.