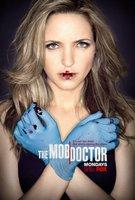 TV Info
---
Episode Premiere
September 24, 2012

Distributor
Fox

Genre
Thriller

Show Period
2012 - 2013

Production Company
Sony Pictures Television


Cast and Crew
---
Director
Michael Dinner
Screenwriter
Josh Berman, Rob Wright
Main Cast
Additional Cast
Kevin Corrigan
Terry Kinney
Synopsis
---
Grace remembers the first time someone in her family lied to her: Her mom said her dad was missing Grace's sixth birthday party because of work, but Grace sees him pass out drunk in their front yard.
Nate interrupts Grace's memories, asking if she's heard from Moretti. Grace doesn't answer and suggests Nate register for community college.
Constantine and Franco visit a farmhouse where Donte Amato has been hiding from murder charges. Donte's wife, Gemma, and his brother, Titus, greet them. Constantine wants to take over the brothers' deal with Moretti to distribute video poker machines, but instead of Constantine wants Donte has a coughing fit.
Meanwhile, a 92-year-old man comes to the hospital from a rest home needing to have multiple tests run. As Brett and Grace discuss tonight's dinner date at Grace's mother's house, a woman in a bridal dress enters, bleeding from her eyes, and collapses. After Brett and Grace revive her, Constantine summons Grace to the farmhouse.
Grace examines Donte and takes a urine sample to the hospital. The tests point to kidney failure. Grace learns the 92-year-old has minutes to live and asks Ro to stall the death pronouncement.
Brett and Grace discuss the bride's tests, which point to a panic attack. After Nate makes a half-hearted attempt to register, he sees Grace and Franco wheeling Donte into the hospital. Grace will use the now-dead man's scheduled tests to help cover her testing on Donte and asks Ro to help her keep it secret.
As Grace runs the tests, Donte mentions that he knew her father. Grace asks if Donte knows who killed him. Donte says to ask Constantine.
When Brett attempts to run more tests on the bride, she tosses him aside and runs, but Grace traps her. Stafford explains that the bride has an adrenal tumor against her kidney and Brett's pushing on it triggered the same reaction as when she laced up her wedding dress. Since the tumor is causing bleeding, they need to operate.
Flanigan confronts Grace about the multiple tests being done on a 92-year-old, but Franco claims to be the man's grandson and Flanigan backs down. Donte leaves the hospital.
After Stafford, Brett, and Grace perform a successful surgery on the bride, Grace asks Constantine if he killed her father. He says no. But Donte needs Grace's immediate attention. Grace calls Ro and learns Donte has lactic acidosis. When Grace revives Donte and discovers he's been poisoned with cyanide, Gemma drives away.
Meanwhile, Brett arrives at Grace's mother's house for dinner. Because Grace is running late, he gets the full interrogation. As Grace heads to her mom's, Nate stops her and demands to know what's going on. She tells him everything. By the time Grace and Nate get home, dinner's already been eaten and Brett is leaving.
When Titus refuses Constantine's deal, Constantine's gang hijacks a truckload of gaming machines and discovers half the machines have duplicate serial numbers, so half the money they earn wouldn't be traceable. Constantine confronts Titus with this information and forces him to give up of everything.
Then Gemma arrives at the hospital and is pronounced dead. Grace remembers her sixth birthday wish was that her father would never come home again, which came true when she saw two thugs carry him away.
Meanwhile, Nate tells Constantine that he knows about the deal with Grace and asks Constantine to hire him.