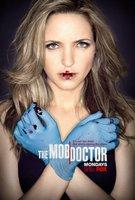 TV Info
---
Episode Premiere
September 17, 2012

Distributor
Fox

Genre
Thriller

Show Period
2012 - 2013

Production Company
Sony Pictures Television


Cast and Crew
---
Director
Michael Dinner
Screenwriter
Josh Berman, Rob Wright
Main Cast
Additional Cast
Synopsis
---
A young girl remembers seeing her first dead body: the neighborhood drunk, shot in the head, in a vacant lot near her South Side of Chicago home. Although she's now Dr. Grace Devlin, she still remembers every dead body.
Today, Grace is at a veterinarian's, pulling a screwdriver from a thug's forehead before heading to her job at a Chicago hospital. Her first patient is an eight-year-old, Kevin, with a gunshot wound. When he goes into shock, Grace's supervisor, Dr. Flanigan, orders drugs, but Grace defies him and performs a surgery that saves Kevin's life.
Afterwards, nurse Rosa "Ro" Quintero says Grace's mother, Daniella, is in the lobby. But federal agents burst in with a patient, and chief surgeon Dr. Stafford White asks Grace to help with this case.
Daniella tells Grace their 14-year-old neighbor, Suzie, came looking for Grace and collapsed, so Daniella rode in the ambulance with her to the hospital. And Grace's boyfriend, Dr. Brett Robinson, says that although Suzie's a virgin, she's pregnant.
The feds' patient is mobster Ralph Sevarino, who suffered a heart attack before he could testify against mob boss Paul Moretti. After Grace convinces Stafford she could perfom a new surgical procedure to save Sevarino's life, she receives a bunch of balloons with a note attached that reads "Kill him."
Grace heads for a mob-front body shop where she's greeted by her ex-boyfriend, junior mobster Franco, and Moretti reminds Grace she agreed to do anything to keep him from killing her brother, Nate, over a gambling debt.
Back at the hospital, Kevin's now conscious, but since Grace has the Sevarino case, Flanigan puts him under Dr. Oliva Watson's care. And when Grace explains to Suzie that she became pregnant via outercourse, Suzie's afraid her father will go ballistic -- and she'll lose an important scholarship.
Following a TV news report about Sevarino and ex-mob boss Constantine Alexander's recent parole, Grace treats Constantine at his home. And a bearded man takes pictures of her leaving.
After Brett tells Grace that Suzie has an ectopic pregnancy that requires surgery and her father's consent, Grace learns that Kevin died. Olivia says he died because Flanigan overruled Grace's suggested treatment. Grace asks Olivia to report this, but she refuses. Grace calls out Flanigan in front of Stafford and asks him to report the incident, drawing Flanigan's anger. Stafford refuses 'cause Flanigan would just get a slap on the wrist and would remain Grace's boss.
Grace tells Suzie's dad his daughter has a ruptured ovarian cyst. Although Grace will have Ro do the paperwork cover-up, Brett's uncomfortable with being part of such illegality.
Moretti tells Grace his bearded thug will give her a marked syringe with a drug that will kill Sevarino on the operating table. But when Sevarino is rushed into surgery, Grace drops the marked syringe before injecting him and the surgery is a success. Meanwhile, Olivia's angry with Grace 'cause Flanigan thinks Olivia was the informant, adding that Grace's behavior makes her untrustworthy.
Grace gets an angry call from Moretti, who's at her mother's house. When Grace discovers Moretti's holding her mother at gunpoint, she rams Moretti's car and takes off. Moretti gives chase and they wind up at Constantine's house. Constantine kills Moretti and tells Grace she didn't see this, so she should get gone.
After Brett tells Grace that Suzie's operation was successful, Constantine summons Grace, saying he intended to retake his place as boss, so he didn't mind killing Moretti. He also says Grace knows too much and should leave Chicago, but she refuses, citing her family ties. Constantine says OK, but her debt to Moretti now becomes a debt to him.
As Grace walks away, she sees Constantine's car and reveals that the first dead body she saw was actually her father's, but she was glad he was dead 'cause he beat up her mother, brother, and her. And that when she looked around, she saw Constantine's car leaving the scene.