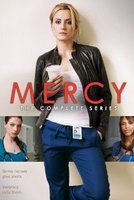 TV Info
---
Episode Premiere
January 20, 2010

Distributor
NBC

Genre
Drama

Show Period
2009 - 2010

Production Company
Universal Media Studios, Berman Braun


Cast and Crew
---
Director
Gloria Muzio
Screenwriter
Peter Elkoff
Main Cast
Additional Cast
Synopsis
---
The nurses are just enjoying some of Angel's boyfriend's amazing pastries when the guy everyone calls "Still Bill" is rolled onto the floor. Ten years ago, scaffolding fell on Bill and he's been in a vegetative state ever since, living upstairs in the long-term care unit. The nurses love him because he's always smiling, and he doesn't talk back. Since they all want Bill as a patient, they shoot for it. Veronica wins and decides it's high time that Bill had a shave.
Simone has been bunking at Sands' place and gotten herself a job at Delancey's, and there's a decidedly uncomfortable lack of privacy around the apartment. When Gillian spies Simone testing out her lip gloss, she gives it to her. While walking to the car with Sands, Gillian spies a little kitten. She can't have pets at her apartment, but decides that they'll adopt it together. Despite his doubtful look, little MCAT will be the newest resident of Sands' apartment.
Sonia checks in while Veronica is bathing Bill. Veronica admits that she's still wrestling with Gillian's now-or-never thing vis-vis Sands from the other day. Is this some diabolical Pacific Rim chess move or what? Sonia reminds her that the only thing that really matters is what Veronica wants. Veronica admits, she wants Sands, she just doesn't want him to say no -- it's scary. Still wrapped up in their conversation, the girls are maneuvering out the door when Bill chimes in. Know what else is scary? That Y2K bug! Bill is back!
Nurses and doctors alike are freaking out because they don't want to freak Bill out, and there's no set protocol for his particular situation. No one wants to tell him he's lost ten years. Bill seems perfectly happy, as his speech starts to return, occasionally muttering the Japanese phrase "Okiro Bi-ru" -- a complete mystery. Sands calls Dr. Carrozzi in for a consult. Although Bill looks to be in pretty good shape, he's still pretty out of it and anything could happen. When he asks about a woman named Roxanne, and spits out the word "Flegenheimer," Veronica deduces that it's Roxanne's last name, and pulls up a picture of her on the internet. Bill smiles -- it's her!
Harris and Chloe examine newly married Sharra, who has just undergone surgery for invasive ovarian cancer. During surgery, a chemo shunt was inserted in her abdomen, effective for the cancer, but hard to live with. Knowing chemo will be beyond rough, Sharra's husband Craig leaves all decisions about treatment up to her. Sharra jokes that she's already lived through a plane flight sitting next to Anne Coulter -- how tough can it be?
Sonia and Angel are gossiping about Bill when Nick shows up with bad news. Sonia is being evicted from her apartment; the landlord is selling the building. Nick thinks it's the perfect time to move in together; they can pool their resources and afford a nicer place -- and Sonia can pick whatever she wants.
Sonia checks on her patient Lauren, a wealthy older woman with Lou Gehrig's disease, who suffered a broken tibia when her home care nurse dropped her. It's clear that Lauren and Sonia are cut from the same sarcastic cloth, and get along like peas and carrots. Lauren is feisty and rather disparaging of her hipster son Paul, who's been living at home during his divorce. Lauren knows her broken tibia signals the end of her mobility, and is in the market for a nurse who's not evil or spastic and won't break her other leg. Sonia promises to ask around.
Sands finds Bill watching TV, amazed to learn that in the last ten years, all TV weathermen are Asian women with large breasts. Having overheard Veronica and Sonia talking earlier, Bill tells Sands that Veronica is planning on making a move on him. Sands rallies his inner circle -- Simone and Harris -- at Delaney's. What should he do? Harris thinks Gillian is a lovely, grounded lady, obviously the wiser choice of the two. Ultimately, Harris advises Sands to let Veronica make her move, then examine it for sincerity and durability with an objective eye.
Back at the hospital, Sands acts awkwardly around Veronica, in anticipation of the onslaught. The conversation turns to the day's hot topic, Bill. Veronica asks Sands what he thinks he might remember after ten years of twilight, but their conversation is cut off by a commotion coming from Bill's room. They run to find Bill surrounded by reporters, pressing ridiculous questions. Veronica gets behind Bill's wheelchair, yells for clearance, and pushes him out of there.
Chloe and Sharra look through photos from Sharra's hasty hospital wedding -- Sharra looks fantastic, incredibly happy. She just hopes that no matter what happens, Craig will remember her looking just as she does in the photos. When Sharra's breathing becomes labored, Chloe hits the call button, and before long, Sharra's coughing up bloody sputum. Harris rushes in to deduce that Sharra's blood isn't receiving enough oxygen, and they may have to incubate, in which case she'll have to be deeply sedated so she won't buck the ventilator. Terrified, Sharra makes Chloe promise that she won't let Craig see her on the ventilator. It's not the way she wants him to remember her.
Nick and Sonia have a rough time on the apartment hunt, but finally find something that they like in a crackhead-free neighborhood. Trouble is, it's a bit more than they wanted to spend. When Sonia points out the expense, Nick promises they'll make it work. Meanwhile, Veronica pushes Bill's wheelchair around the park, filling him in on everything that's happened in the last ten years. Explaining what happened on September 11th is tough -- it's a different world now. Veronica thinks Bill should try to find Roxanne, but he figures she, too is in a different world, since he's been asleep for ten years.
Sonia returns to the hospital just as Lauren and Paul are leaving, to ask if she's still looking for a nurse. Lauren figures she'll need two nurses, offending Paul, who figured he could cover nights. When he snips that he doesn't want his mother to do anything impulsive, Lauren claims that if her leg weren't broken, she'd kick him in the butt. Lauren hires Sonia on the spot.
After leaving the hospital for an hour, Sharra's husband Craig returns to find a conflicted Chloe pacing the hallway in front of Sharra's room. It turns out that Sharra has an infection in her lungs and isn't getting enough oxygen -- now she's in an induced coma and hooked up to a ventilator. Craig wants to see Sharra, but Chloe explains that he can't; she's only trying to honor Sharra's wishes. When Craig tosses Chloe out of his way, Angel comes running to her defense.
Lauren lives in a magnificent mansion in Short Hills. Sonia's called in Mike to build some ramps outside the house. Mike admits he's been feeling restless, like he's back-burnered a lot of plans. Anyway, things are getting better, and he's turning over a new leaf, starting tonight. Mike has plans to drive to Florida with Veronica's brother Tim to go tarpon fishing, something he's always wanted to do. Isn't there something that Sonia has always wanted to do?
Sands and Veronica sit with Bill for a session with his lawyer. Apparently, Bill inherited a good chunk of change while he was out, which was invested in Apple stock. So his finances are lookin' real good. He can do whatever he likes. But what does he like? Veronica again suggests finding Roxanne, she'd know. After seeing himself in a hospital gown on TV, Bill has realized that he needs some clothes, so Angel volunteers to take him shopping. Meanwhile, Chloe assists Harris with a procedure to drain the fluid around Sharra's lungs. Instead of helping, it just seems as if Sharra is plunging headlong into crisis.
Lauren is having trouble using conventional silverware to eat her soup, and rails against the clowny plastic utensils Sonia has given her to use. Sonia will brook no nonsense, and goes about proactively engaging Lauren in learning how to live with her condition. When Lauren sends Sonia to her extensive walk-in closet to fetch a sweater, Sonia is blown away by the wretched excess of Louboutins, and can't help slipping one on. Paul catches her and is about to freak out when Lauren's med alert alarm goes off, and Sonia runs out. Calmly assessing the situation, Sonia takes charge, performing the Heimlich maneuver. From now on, Lauren's going to have to cut her grapes in half.
Later, Sonia calls Veronica to see if she's pulled the trigger on Sands yet. Veronica admits that every time she sees him, she feels like he's setting a trap. Spying Bill's Roxanne wandering around, Veronica hangs up the phone. Roxanne and Bill were only seeing each other for six weeks before the accident, but it was magical. Roxanne was at the hospital every day for six months before her friends pulled her out. Now she's on the other side of a failed marriage. As she talks about the past, Roxanne freaks herself out so hard, that she decides she can't bear to see Bill and leaves.
Paul finds Sonia clutching a plastic toilet seat in the hallway, staring into a photograph of the Paris cityscape, which he took. He thanks her for saving Lauren; the whole thing has just been really overwhelming and scary. Chloe finds Craig on the terrace; he knows Sharra is dying. Chloe informs him that although Sharra consented to intubation, she did not permit CPR or electrical shocks in case her heart stopped. Confessing that she's new at this, Chloe tells Craig that the door to Sharra's room is open...
After the shift, Simone pours shots for Veronica, Sonia and Angel at Delaney's. Sonia thinks Veronica should tell Bill that Roxanne came by the hospital, but Veronica is already drunk. Sonia tells them about the new place, confessing that one minute she can't get enough Nick, the next she feels like she's walking into a trap. Veronica worries. What if she and Sands can't duplicate what they had in Iraq? Were bombs and death their oysters and champagne? Sonia orders another round, demanding that Veronica use liquid courage to go back to the hospital and tell Bill about Roxanne.
Mike and Tim gas up for the trip to Florida, excited by the prospect of a ten-day trip. Tim wants to start out in Atlantic City, but Mike thinks it's a bad idea. Tim reminds Mike that he's all about a fresh start. Maybe it's time to roll the dice, literally. It's not too long before Tim is advising Mike to back away from the blackjack table where he just won $42,000! Meanwhile, Chloe and Craig watch as Sharra goes into v-fib, then flatlines, dying in her hospital bed. Later, Chloe tells Harris that she's broken Sharra's trust. Harris reminds Chloe that if she hadn't insisted the ambulance bring his wife Yelena to Mercy, he wouldn't have had those last few minutes with her, for which he's forever grateful. He gives Chloe a note that Sharra wrote for Craig in case something went wrong.
Veronica finds Bill sitting with a Japanese woman, one of his nurses from the long-term care unit. It turns out that every night for ten years she would say "Okiru Bi-ru" to Bill, which means wake up in Japanese. Veronica sits down to explain Roxanne's visit, just as Roxanne appears at the door. Veronica heads over to Sands apartment, greeting him with "Okiru Bi-ru," then makes her move. Sands backs off, bringing up Veronica's question from earlier in the day. If he were in Bill's shoes, he would remember all the good stuff about Veronica. He also remembers what it felt like when she told him to go home, and he can't go through that again. He's in a relationship now, and he's trying to make it work. Spying MCAT with a tag that reads "Sands-Jelani," Veronica gets the picture and leaves.