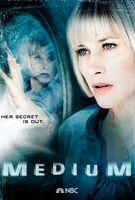 TV Info
---
Episode Premiere
June 01, 2009

Distributor
CBS, NBC

Genre
Drama

Show Period
2005 - 2011

Production Company
Picturemaker, Grammnet, Paramount Network


Cast and Crew
---
Director
Arlene Sanford
Screenwriter
Robert Doherty, Craig Sweeny
Main Cast
Synopsis
---
Allison dreams that she's living alone in a nondescript apartment building. She walks past a picture of her family on the wall in her sparsely decorated apartment. She cooks a microwave dinner when a man knocks on her door, bearing the gift of a real takeout dinner. He says she shouldn't be alone on the one-year anniversary of the day her family was slaughtered. Allison wakes terrified and checks on her entire family to make sure they're all alive and there.
At breakfast, Allison is short-tempered, upset by her dream and suffering from a headache. Joe quietly assures her that every parent has nightmares about losing their kids, and since she didn't recognize anyone, perhaps that's just all it was. Ariel's excited about her dance tryouts at the Art Institute in the afternoon and confirms that Allison will pick her up there afterward. Marie reads an "I love you" note from Allison in her lunch box. After getting a scolding from Bridget for reading it now, Allison writes her a new one so she'll have one to read at lunch.
Allison brings a box of hand-me-down baby clothes for Scanlon. Seconds later, she hears a man pleading for someone to stop. A picture of Detective Luis Ruiz, his wife and their son topples over on a desk. Allison picks it up and has a vision of the man from her dream torturing Luis, who's bound to a chair. Not recognizing Luis, she asks Scanlon who he is. He explains that Luis is a detective who's been on assignment for two months. He calls Luis' assignment "cloak and dagger" stuff, but has no idea what it is.
After Allison describes her vision to Scanlon, they meet with Devalos, who tells them Luis is working in tandem with the DEA on a highly classified operation. Devalos explains that the Mexican drug cartel violence has spilled into Arizona with multiple kidnappings and homicides. Luis got inside one of the cartel operations in Phoenix, deeper than any undercover officer has before. Allison asks when they last heard from him. Devalos says it's common not to hear from agents deep under cover. He says the man Allison saw in her dream is Oswaldo Castillo, a top enforcer believed to be in Arizona and at the root of the rash of violence.
When Allison arrives home, Joe tells her that the whole family has been trying to reach her for hours. And, that she forgot to pick up Ariel at the dance tryouts. Allison is unnerved that she forgot and complains of another headache. When Joe, who's going out of town for three days, asks her if she's okay and wants to see the doctor, she becomes defensive and snaps at him for suggesting it. She just wants to nap. While walking to the bedroom, Joe says, "By the way, she got in. Ariel nailed her tryout." Allison, unsettled that she forgot to ask, says without conviction, "Excellent."
Allison dreams that she's speaking to the police officer from her first dream. She tells him that through a private investigator, she's found someone who knows Oswaldo's whereabouts -- Hector Cruz in Guadalajara, Mexico. He can't believe she hired another P.I. after the first one took all her money and disappeared. Even so, Allison wants him to check out Cruz, a doctor who treats cartel patients after hours. When he's skeptical and can only offer to give the info to the Mexican authorities, Allison becomes irate. She takes out Oswaldo's picture, demanding he look at the man who murdered his wife and her family. Refusing to look, he walks away.
Allison wakes, upset. The D.A. calls her to a crime scene, where five bloody coolers sit in front of a house. Devalos says the coolers contain police officer Luis Ruiz, cut into a dozen pieces. In true cartel style, they delivered his remains to his wife. Weeping and terrified, his wife is being comforted by police. Devalos says as a result, the DEA is setting up a task force in their office, headed by Special Agent Daniel Munoz, whose wife was recently murdered by a cartel car bomb. He introduces her to Daniel, and Allison's shocked that he's the officer in her dreams.
A frightened Allison tells Joe that Munoz is real. Meaning, that her premonition of Joe and the kids being murdered could be real. Joe refuses to believe their fates are sealed and they quarrel over it. Joe says she has two choices, to quit her job or keep working until they put the bad guys away. The next day, Allison is in the office early, looking at pictures of Daniel and his wife. In early too, he surprises her. When she apologizes for having the photos in view, he says not to be, as his wife's murder is part of the case. He shows her all his case files and offers her unrestricted access to them.
Meanwhile, Joe is disturbed when he sees that Allison's lunch notes to Marie and Brigitte are unintelligible scribbles. At work, Allison downs aspirin for her headaches while she looks at the case photographs. She comes across a photo of Oswaldo with a friend, who's been marked as killed. She has a vision of pizza being delivered to the friend's mother's house, 220 DeKalb, where Oswaldo is hiding out. Dizzy and unwell, Allison relays the information to the task force. Devalos notices her poor condition, but Allison just wants them to get Oswaldo. Suddenly, in front of the concerned team, she gets a nosebleed and faints.
Allison dreams that she's looking through files in Dr. Cruz's office in Guadalajara. She takes a phone number from Oswaldo's file just before Cruz returns. When Cruz says not many Americans come to this part of Guadalajara, she explains she had surgery to remove a tumor on her brain stem and needs narcotics for the pain. Not wanting to cut her vacation short, she came to him. When Cruz asks for documentation of her surgery, she stands to leave. He offers to settle for just seeing her scar as proof. Allison removes her wig to reveal sparse hair and a large scar on the back of her head.
Allison wakes at the hospital with Joe at her bedside. He braces to break the news to her about what the doctor's found, but Allison says she knows already; she has a brain tumor. The doctor explains to Allison and Joe that she has a brain tumor on the brain stem, and that they need to remove it right away. Allison assures Joe that she already knows it's benign. The doctor, aware of her reputation, says that either way it has to come out. If they leave in, it could cause paralysis, coma or death. When she wants to remove it tomorrow, Allison is fine with that.
Joe wants to discuss the best way to tell the girls, but Allison is only concerned about their safety. With her dreams coming true, she wants him and the girls to leave town. Joe shows her the garbled writing on the notes she wrote to the girls, saying that's proof her dreams can't be trusted right now. He refuses to leave her on the eve of having an operation she may not survive. Despite Allison's protests, Joe says the best he can do is take the girls to his sister's house, because he demands to be there when she wakes up.
Daniel visits Allison that night to tell her that they raided the address that she gave to them. He says they didn't find Oswaldo, but they found weapons, money and his fake IDs, so they know he was there. He thinks Oswaldo left at a moment's notice, having been told they were coming. When Allison says she fears for her family's life, Daniel says that even though he barely knows her, she almost led him to the man that murdered his wife. He says that he won't allow the things she's been seeing to happen.
Allison dreams that she's packing, including the phone number from Ruiz's office and a gun in her suitcase. Devalos stops by, concerned by a message she left him that sounded like a goodbye. He asks if she's planning on doing anything drastic, and she assures him she isn't. They talk about her career options after the operation caused her to lose her "sight." Allison says she could have saved her family had she waited, as when they cut out the tumor, it was as if they removed her gift as well.
Early in the morning, Joe comes to Allison's hospital room only to see that she's gone. Knowing that she wouldn't be able to persuade Joe or the doctors to wait, Allison, though feeling dizzy and ill, has checked into a seedy hotel room. Joe calls her cell, incredulous when Allison tells him that she left because of her dream that she would lose her gift. Despite Joe's pleading, she says she has to delay the operation.
Allison dreams she's staking out Oswaldo's hideout. When he pulls up, she moves to kill him when another car arrives. To her shock, it's Daniel. Inside, Oswaldo pays him handsomely for his cooperation. Upon hearing the garage door close, they investigate and find Allison inside. Daniel tells Oswaldo who she is. Oswaldo raises his gun, but they realize she's cut a gas pipe. A spark will kill them all. Pointing her gun at Oswaldo, she asks Daniel how he can take money from Oswaldo, who murdered his wife. Oswaldo says Daniel's been taking money for years. Oswaldo says he killed Daniel's wife when she found out, then tries to buy Allison off. She responds by pulling the trigger and blowing them to smithereens.
At the D.A.'s office, Devalos tells Daniel that they got an anonymous tip to Oswaldo's whereabouts and the cops are on their way to nab him. He invites Daniel to come along, who agrees, but says he has to drop off something in his office. While inside, he texts Oswaldo, "Cops on way. Leave now." After he finishes, Allison asks him, "Did you warn him?" Surprised to see her, Daniel tries to blame her illness for her accusation. She calls in Devalos and Scanlon, who tell him there was no anonymous tip.
Devalos asks for Daniel's phone, and at first he refuses. Scanlon says Ruiz, whom Daniel got killed by tipping off the cartel, sat by him for three years. Devalos says if he surrenders his phone and leads them to Oswaldo, he'll try to arrange life imprisonment over the death penalty, which is certain if they're forced to subpoena his records. Daniel takes option one. At the hospital, Allison is in surgery. In the waiting room, Devalos tells Joe that due to Allison's actions, they arrested Oswaldo. He assures him the cartel is no longer a threat to them. He calls Allison a hero. Joe says he always knew that.
The surgeon emerges to say that they removed the entire tumor except a small portion that radiation will take care of. Joe's relief is short lived when she informs him that just before surgery, Allison had a stroke. They operated anyway to remove the pressure from her brain. Due to the stroke, it's too early to know if she'll ever regain consciousness. Joe wilts back into his seat at the horrible news.